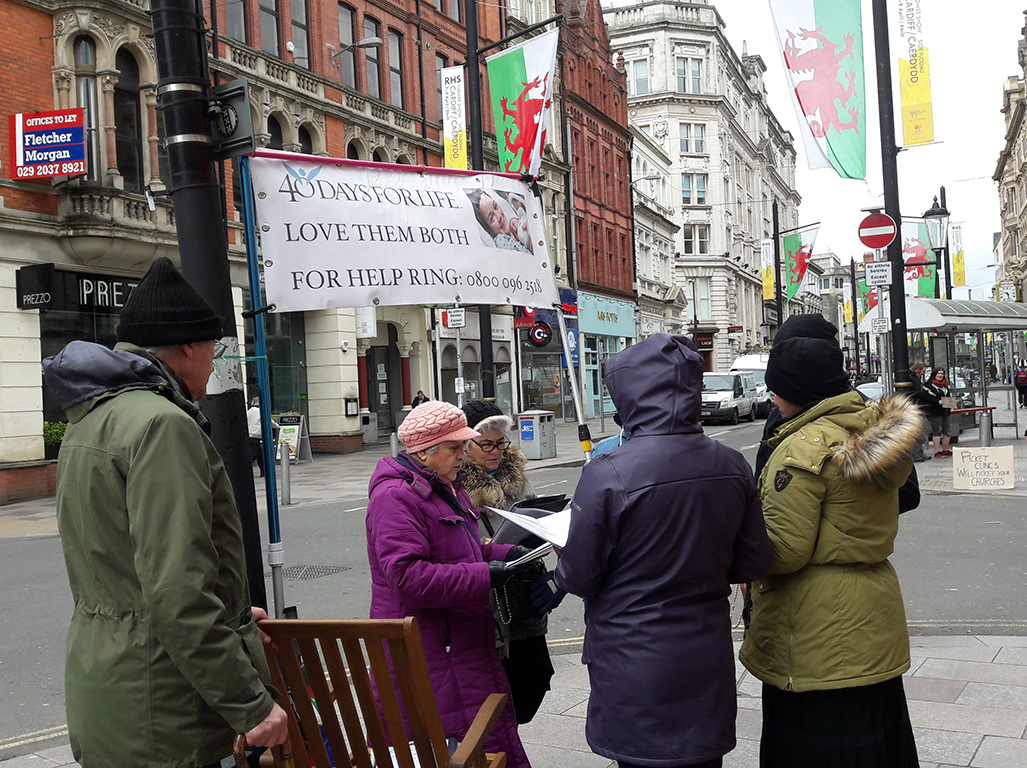 TWO groups of rival protesters have gathered outside a city abortion clinic in a stand-of which will last 40 days.
A group called 40 Days for Life is holding a "prayer vigil" opposite the clinic, which is on St Mary Street, throughout Lent until April 9.  They are in turn, being protested by pro-choice activists who will be there until the same day.
This is the fifth year that the stand-off has taken place outside the clinic, which is run by the British Pregnancy Advisory Service, a charity which provides support for women and couples thinking of getting an abortion.
Michael Wendell Thomas and Janet Secluna Thomas, who are members of the 40 Days for Life protest, believe that all abortion should be illegal.
Michael, 73, from Dinas Powys said: "We say that the moment of conception is the beginning of human life. If a fertilised egg is lost, that is a person. We do not know that person, because they haven't developed, but that doesn't mean that a person hasn't been lost."
Janet, 74, also from Dinas Powys said: "There are many people around the world that you don't know. The fact that you don't know them doesn't make them not human. We treat unborn children as human beings with antenatal care, but at the same time we say 'oh they aren't properly human so we can choose whether they live.' We are against killing."
Serena Cutler, 28, is protesting the 40 Days for Life rally. She says she doesn't have a problem with their views, but she does have a problem with where they are choosing to air them.
She said: "The problem isn't that they have an opinion or that they're pro-life. The problem is that they're intimidating people. We want people to be able to access these facilities and we don't want people to suffer.
"Some of the people who go in that clinic are young. They're teenagers, going for an appointment for the hardest thing they'll ever have to do and these people could intimidate them. We would like that to stop."
Janet says they don't intimidate people, because the clinic is part of a block of offices and they don't know who is specifically going to the clinic.
She said: "We don't approach anybody, as the people going in there are going in for a whole variety of reasons. We have no idea who's going to the clinic. This is a prayer vigil, we don't come here to win the argument.
"Inspector Owen, from the Central Police Station came and spoke to us last year. He decided to look into complaints against us himself. He said he had been up and down the street at different times and he had never seen us do anything. We were doing what we said we were doing, which is praying and sometimes singing hymns."
South Wales Police have decided to put a police officer near the clinic at all times while the protest is ongoing, to try and prevent tempers from boiling over. Both groups seem grateful for this.
Michael said: "We are very glad that the police are there because it certainly reduces the potential of violence. Someone was shouting at us the other day and at least we knew the police would intervene. That meant we didn't have to respond."
Janet, who organises the 40 Days for Life rally, said they had spoken to the police before the start of this years event.
She said: "This year we met with the police before we started to try and make an arrangement and it seems to be working well. The two groups are kept apart and this tempers things from getting out of hand. In the years I have been running it we have tried to be as peaceful as we can."
Serena says the police presence is good for both groups: "It's also to stop them trying to provoke us into getting in trouble as well. That hasn't happened thankfully.
"We have a good relationship with the police. They're always friendly. I feel a bit safer having them here."