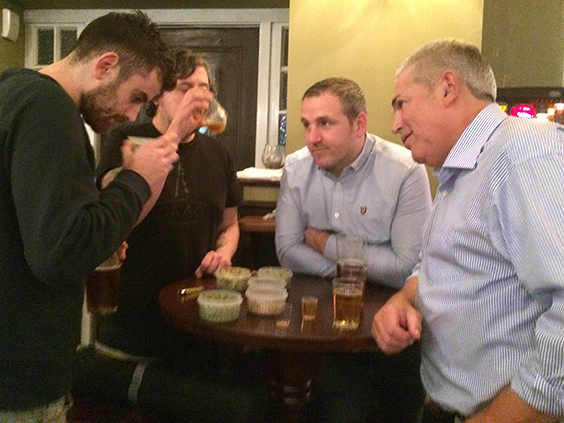 BIRCHGROVE Wetherspoons hosted Swansea brewery Tomos Watkin on Wednesday in a "meet the brewer" event.
Pub-goers welcomed head brewer Alex Cunningham, deputy head brewer Gareth Moul, and operations manager Cen Hayward to The Aneurin Bevan between 6pm and 8pm.
The trio talked about the process of brewing and brought a range of hops for an interactive and informative display.
Tomos Watkin is one of over 80 brewers in Wales. Mr Hayward said younger drinkers were looking for a different social experience.
"We have seen a massive growth in styles, flavours and formats and also that beer-drinking is becoming more inclusive across genders and age groups." he said.
"Our challenge is to develop new brews and formats such as our newly-introduced craft can range. We try really hard to bring these beers to our drinkers through regular events such as beer festivals, store tastings, in-house tastings and meet the brewer nights."
The Chancellor of the Exchequer Phillip Hammond is expected to announce an alcohol tax rise in line with inflation in the Autumn Budget but some campaigners have been lobbying for minimum unit pricing.
"We support the view of British Beer and Pub Association that minimum unit pricing could penalise responsible drinkers but we also strongly support policies and initiatives targeted at the minority of those who misuse alcohol.
"Most alcohol is now consumed away from supervised environments like pubs and minimum unit pricing could also increase costs here too," said Mr Hayward.
A spokesperson for BBPA said: "UK drinkers already pay some of the highest taxes in the world. For beer, duty is three times the EU average. With further tax rises, there is a danger than one of life's simple pleasures, a pint in pub will become unaffordable for many more people.
"Beer tax rises place pressure on pubs, and more beer tax rises mean more pub closures. Big tax increases have seen thousands of pubs close, as one third of the price of a pint is taken up in tax. Every little helps, but we certainly need a new approach when it comes to beer tax rises, and no further increases during this Parliament."
JD Wetherspoons took part in Tax Equality day last month, discounting their prices by 7.5%.
The BBPA are working with a range of other bodies on calls for lower beer tax, including CAMRA, the Campaign for Real Ale, and SIBA, the association that represents smaller brewers.
Find out more about Tomos Watkin here.
See the Cut Beer Tax campaign here.