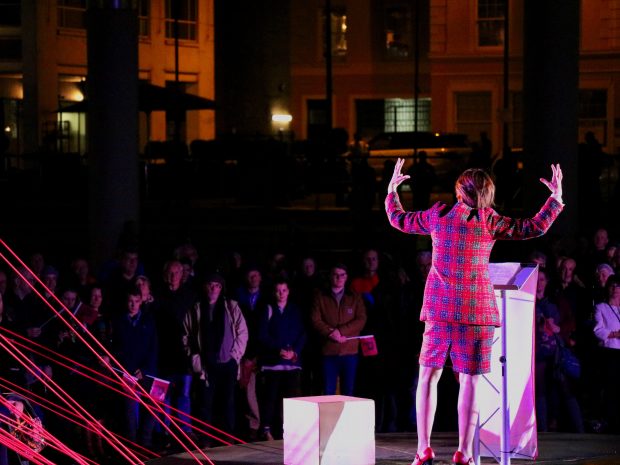 Cardiff director Marc Rees talks about ballet, revolution and surrealism
THE radical ballet PARADE, directed by Marc Rees, was performed at the Wales Millennium Centre, and broadcast by BBC FOUR as part of a season marking the 100th anniversary of the Russian Revolution.
The original piece, created for the Ballets Russes in Paris in 1917, with a score by Eric Satie and costumes by Picasso, was reimagined as an immersive theatre piece by National Dance Company Wales.
PARADE formed part of the Russia Season across Wales that also featured theatrical performance and symphonies by Russian composers Tchaikovsky and Shostakovich.
The Millennium Centre performance included a free outdoor performance as well as ballet on the centre's main stage.
Rees said: "The BBC have done a really nice cut of it, it's only about 30 minutes, but I think captures the essence of the performance."
Rather than just perform the original ballet, Rees and choreographer Caroline Flynn created a "wraparound context, to make it relevant for the modern day".
PARADE can be viewed on BBCiPlayer. More information about the performance is available here.
The Cardiffian asked Marc Rees more about his work and his inspiration
MARC Rees, an actor, director and performance artist, has been making "something quite different" performance pieces in Wales and beyond for over 20 years, starting his career as a performer in 1989.
Exeunt Magazine described him as: "One of the most compellingly original and beautifully strange artists currently working in the UK."
Traditional theatre bores him.
"I find it hard work, I like to be stimulated elsewhere. I don't get stimulated if I'm just going to sit in the auditorium unless it's really engaging or something quite different."
His latest creation, a re-imagining of the early-20th Century ballet Parade by Erik Satie and Jean Cocteau, had performances in both Cardiff Bay and Bangor last month.
The ballet begins with a series of street performers outside the theatre trying to convince the public to watch a performance inside.
Those who attended were treated to what Mr Rees describes as "nonsense", a collection of dancers in Picasso-inspired cardboard costumes seeking to entertain through stylised dance.
Cocteau premiered the ballet at the time of the Russian Revolution and Rees was inspired by that theme. He created a narrative of a politician unveiling a old-fashioned, retro robot he claimed to be revolutionary, with the intention of replacing human workers in a dystopian-style future. The ballet is then laid on as a celebration of the new robot's announcement.
The piece is characteristic of Rees' portfolio, which include a walking trail through garden allotments in Brighton, a sensorial treasure hunt in Laugharne, and a mobile aircraft shell becoming a stage for London's cultural Olympiad.
Rees describes his work as immersive theatre, with most performances taking on a surrealist element. Averse to conventional proscenium-arch theatre, Mr Rees works with a "place and community" to create "site-specific theatre".
With the Millennium Centre in Cardiff Bay as the chosen performance space, Mr Rees also looked to the current political landscape to build on the premise of a politician facing down workers, when an opportunity presented itself.
"With Theresa May's disastrous party conference speech, you just couldn't have made that up. We had the politician interrupt her own speech with a coughing fit.
"That speech was actually on the morning of our first rehearsal with the Eiry Thomas as the politician. You could not have written it, with the P45, just comedy gold."
But such events come at a cost to surrealist artists like Rees. Twitter-wars started by the US President, and scandal after scandal involving British government ministers have made the surreal seem almost commonplace.
"Look at something like [the TV series] House of Cards. At first it was superb but now, because of Trump, you cannot parody [American politics], it is beyond parody… it loses its impact," he said.
Mr Rees' biggest problem is how "fact and fiction has merged to become more blurred". Eventually a surrealist artist's work can become less contentious, defeating their purpose to surprise, shock or engage an audience.
Marc Rees will be returning to South Wales with his next theatrical project in 2018.