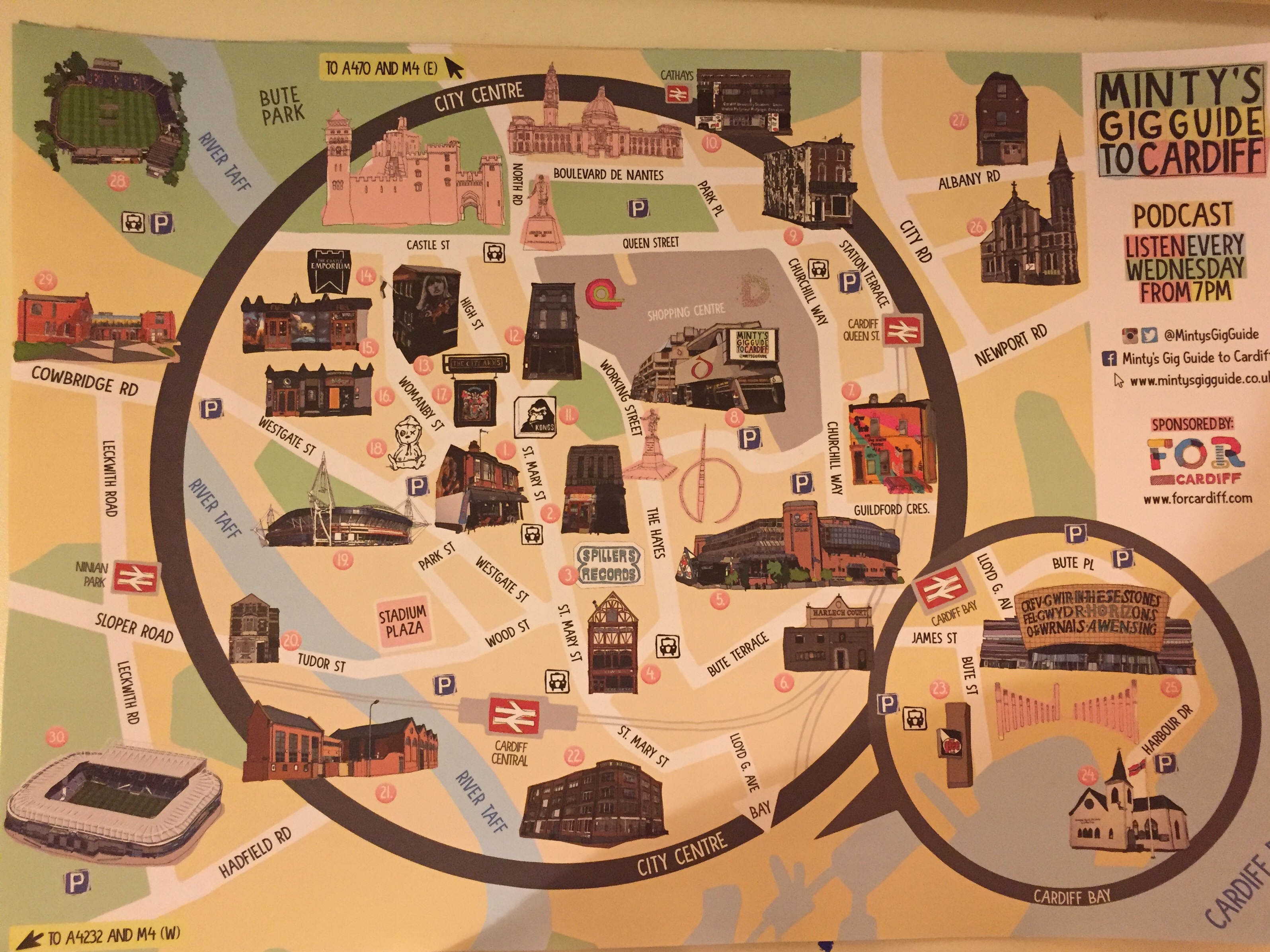 A MAP has been launched with 30 of Cardiff's live venues to help promote the Welsh music and tourism economy.
Broadcaster Daniel Minty of Minty's Gig Guide came up with the idea of a hand-drawn map of Cardiff's music venues and it took his friend, artist Alex Waeland, 11 months to produce.
Mr Minty said: "I wanted an element of unity between all the live venues across Cardiff.
"It was in protest at the closure of Dempseys. When it closed, it closed part of my childhood."
The map was launched last Thursday at Clwb Ifor Bach on Womanby Street, with £5,000 worth of funding from FOR Cardiff, the city's business improvement district.
According to the UK Music Report for Wales £115 million was generated by music tourism in Wales in 2016 with 46 per cent of audiences being tourists.
Central Cardiff MP Jo Stevens is a high-profile champion of Cardiff's live music scene.
Speaking at the launch last Thursday she said: "We are not just looking at what we have done here to protect our venues but also to protect venues across the country.
"I hope what we have done here in Wales, by changing national planning policies for live music venues, we will have new generations of musicians of all sorts.
"Particularly Welsh music and protecting the language, but protecting the future generations so that they have the same opportunities."
A debate on the contribution of music to the UK economy was held at the House of Commons last Friday.
It was led by Conor McGinn, Labour MP for St Helens North who said an estimated 35 per cent of grassroots music venues have closed across the UK since 2007.
"That's hundreds of small businesses that have folded and thousands of missed opportunities for young artists and performers.
"Many venues have closed down due to the result of developers moving into an area to build flats and houses nearby.
"I think the government needs to urgently stop the closure of live venues by enshrining an agent of change principle in law here."
Ms Stevens, who attended the debate, said: "In my constituency we had a very successful campaign to save Womanby Street because of the threat of developers moving in to try and get the council to issue an abatement order.
"We have managed to get the Welsh Government to change national planning policy to allow the agent of change."
The A3 map is available in Welsh and English and can be found in the majority of venues that are on it.
Tourist venues such as Cardiff Castle, St David's Shopping Centre and HMV Cardiff will also stock the map.