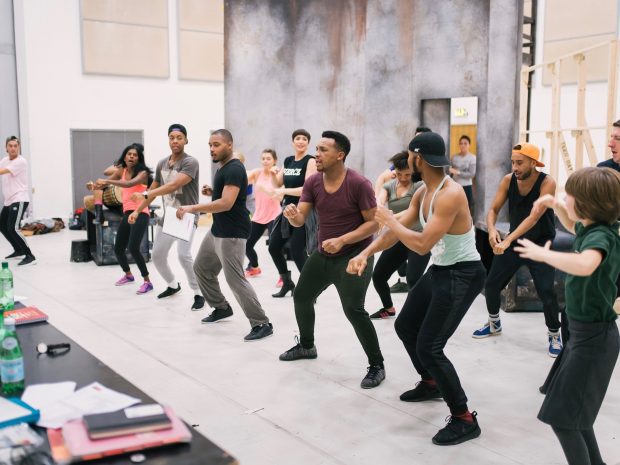 "We always knew that we wanted to tell our own story. Our building sits on the docks of where so much of the action in the piece takes place, and it is a very fascinating story, our history is so rich. We have an amazing history to tell and we want to tell it."
FOR the last three years, Tiger Bay producer Maris Lyons has been involved in the biggest, most culturally significant work the Millennium Centre has yet staged.
"The amount of blood, sweat and tears that have gone into it from our Creative Learning team, marketing, designing, absolutely everybody has been incredible," she said.
We are tucked away in the musical production office, just before the cast and crew have their first full run-through, on a sound stage behind the Centre's Donald Gordon Theatre.
"When we opened 12 years ago, we were all about getting the building open and finding any snags. We wanted to be the No 1 venue that a post-West End show would ring before they go on the road, and we've achieved that. Our intention now is to focus more on producing our own work."
Set during the 1900s, the musical Tiger Bay tells of a time when Cardiff was one of the most outward-looking cities in the world, had the busiest docks in the world, and was awash with international finance.
The Coal Exchange witnessed the signing of the first million-pound cheque. It was also a time of revolution, with the Suffragettes campaigning to "right the wrong" on votes for women, and workers fighting for a better wage.
Love stories and lost loved-ones aside, the driving force of the show is a near turf-war between fictional "Donkey men", native Welsh men working in the docks, and immigrants or "Bay-ites", most of Caribbean origin.
Kayed Mohamed-Mason, 27, is part of the ensemble of Bay-ites, playing a second generation immigrant called Dju Dju.
"It means a lot to me," Mohamed-Mason says about performing in Tiger Bay.
"There's not many musicals based on a place that are then shown in that place, it's incredible. The whole culture of Tiger Bay is based so much on support and unity and people that accepted different ways of life."
"I'm 27 but my family has lived here, my mum was telling me, for something like nine generations. It's been great, I always remember feeling like a part of a massive community that was always willing to pitch-in and help each other out."
Mohamed-Mason's character struggles to find work against the Donkey Men. "These were people who had been born here, 'proper' Welsh people you think they're entitled to the job," he said.
"I think at the start there's a bit of animosity. I don't even think it's mainly about race to an extent, I think it's the fact that the Donkey Men get paid so little, and then we're trying to get jobs for the little work there is. The Bay-ites don't have anything so they could pay us next to nothing."
Current political and social instability in the world has also given the performance a greater focus.
"I think it just made us all the more aware that it is an important story to tell, and we haven't cut any corners, we haven't tried to soften it up in any way, we've made the story very real," says producer Lyons.
"You'll see, it is quite a difficult watch. At the end of it you'll see there is hope for the future, if you see one another's similarities without focusing the differences."
With its world premiere on November 15, it is likely a large section of the audience will be Butetown and Cardiff Bay locals, who may have lived through years of change in the area.
"I definitely think we have a responsibility to tell the story as truthfully, as accurately and as fairly as you can, with as much compassion," said Mohamed-Mason.
"There's been a lot of change to Butetown and the Docks, even since when I was younger."
"There's been so much change that it is important to remember where it came from and the people who lived there."
Dotted with cultural references throughout, from characters working in Morgan Clothing Co. to solving your problems with "a pint of Brain's dark", Tiger Bay celebrates the life and culture of one of the richest and most diverse periods in Welsh history.
Tiger Bay the Musical opens November 13 before closing its run on November 25. Tickets are available here.