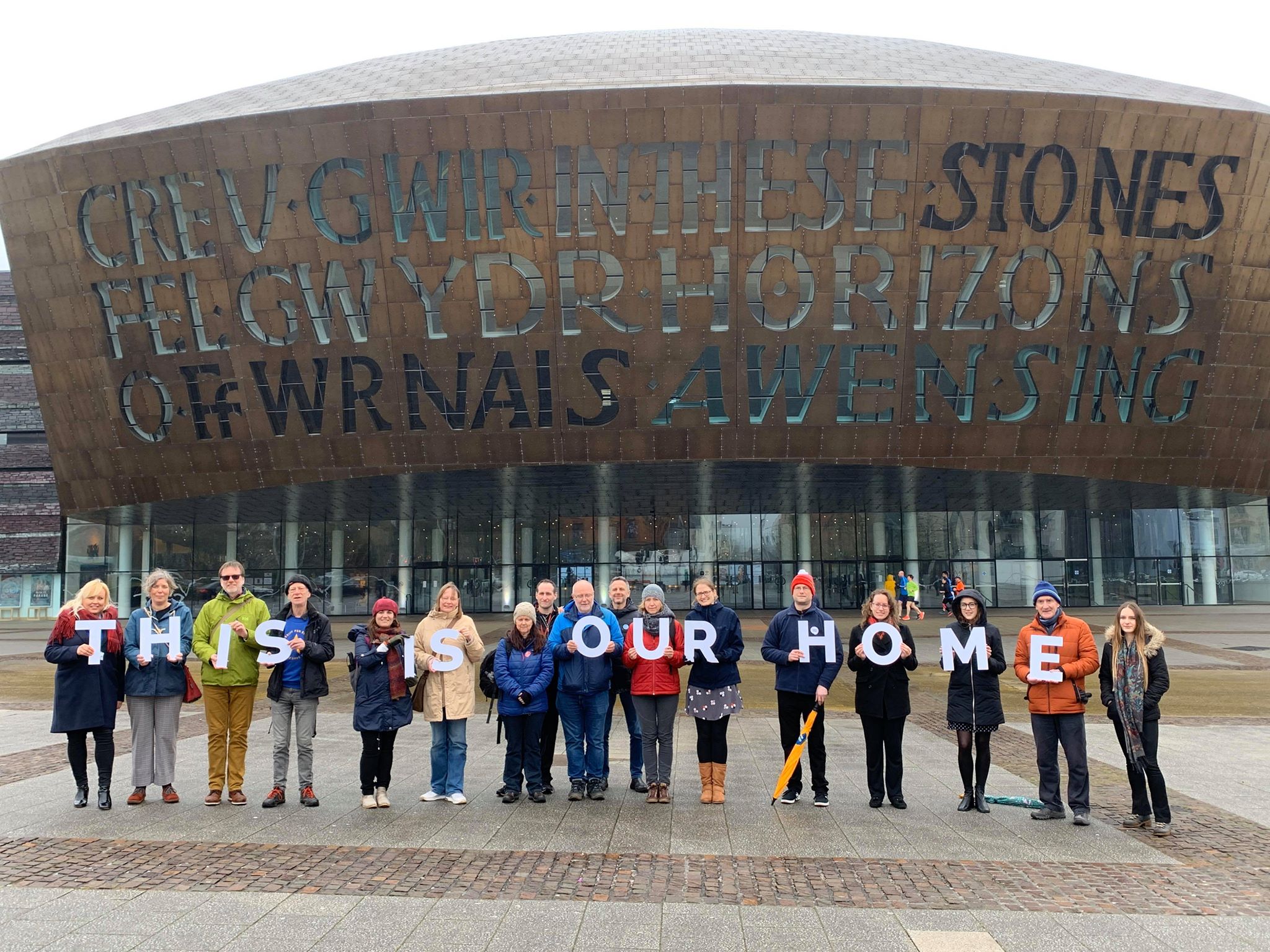 The3million's outreach tour seeks to educate and protect vulnerable citizens post-Brexit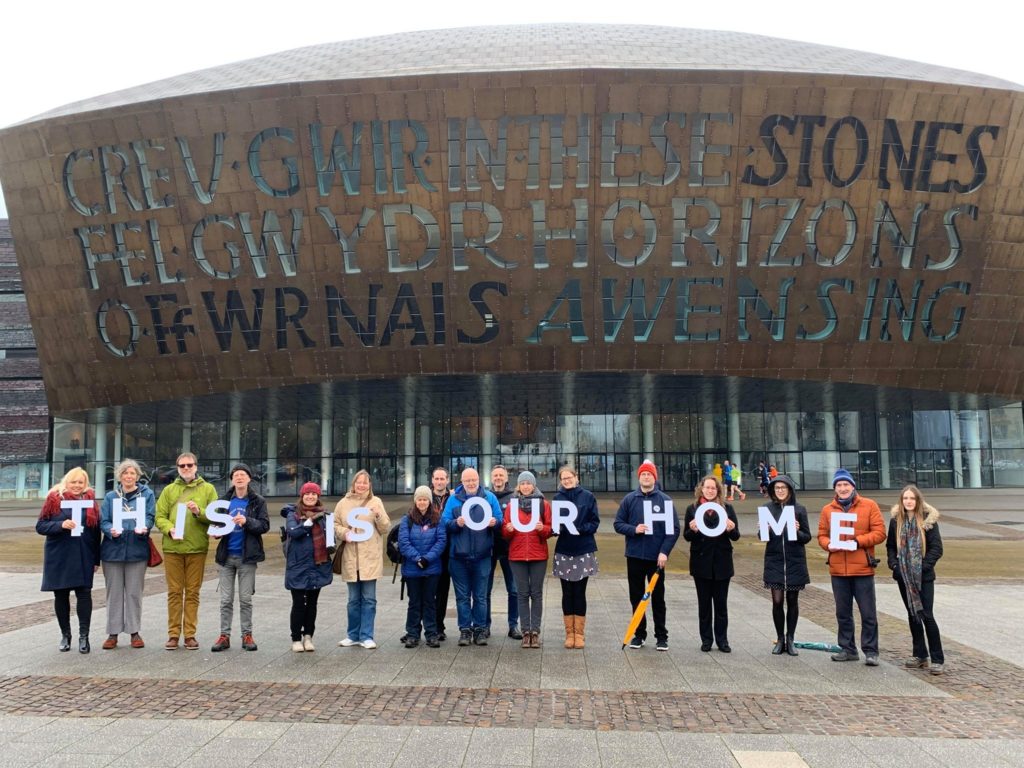 Some of Cardiff's EU citizens braved the rain to send 'a message of love' to the capital as campaign organisation the3million brought their UK-wide tour to Wales yesterday afternoon.

The group gathered for a photo in front of the Wales Millennium Centre in Cardiff Bay and held up letters to spell 'THIS IS OUR HOME' to immortalise their belonging to the city.

The3million is an apolitical grassroots organisation formed after the 2016 Brexit referendum to protect the rights of EU citizens in the UK.

Cardiff was the second stop on the group's 'This Is Our Home' tour, which kicked off in Bristol yesterday, and will visit seven further cities – including Belfast, Edinburgh and Southampton – before March 19th.

The tour aims to educate those affected by the referendum result, and develop local outreach plans while lobbying the government.

A meeting at I Want to Ride My Bike café in central Cardiff last night also saw EU citizens discuss how Brexit is affecting their lives, and learn more about their rights.

"We want to meet as many people as possible, so we can discuss issues and understand how best we can support them locally," the3million CEO Nicolas Hatton told the organisation's website.

"It will be a great opportunity to share our experiences."
From its origins in a Bristol pub in the summer of 2016, the3million – which takes its name from the number of EU citizens in UK – has grown into the largest campaign organisation of its kind in Europe.

"Our mission is very simple – to make sure all EU citizens in the UK before Brexit get the status that they were promised and they deserve, and can live their lives as before," said the organisation's co-founder Maike Bohn.

"We realised early on that there would be problems other than shock and sadness from the referendum result – an immigration lawyer told us that we fell under the same immigration regime as non-EU citizens, we were stuffed.

"We started as a small campaign group with a closed Facebook forum where people could share their problems, but very quickly these problems grew.

"A third of people who applied for permanent residency were getting rejected for something they thought they deserved, and were horrified when they were told to prepare to leave the country."

With issues for EU citizens growing in number and scope, and little clarity offered by the government, the3million began to take on greater challenges.
"That was when we became a really important campaign group for EU citizens," said Ms. Bohn, a German national who has lived in the UK for 30 years.

"We're now taking on legal challenges – we campaigned for Article 50 to include a chapter on citizen's rights, but Theresa May was opposed to it.

"After it was triggered, we became involved in the negotiations, and we have been told from the Brussels negotiators that, without our campaigning, lobbying and media work, citizens' rights would not have been at the top of the negotiating agenda."
A key element of the tour is to make citizens aware of the EU settlement scheme, which will allow EU citizens and their family members to continue to live and work in the UK after the end of the Brexit implementation process this December.

According to the latest Home Office statistics from January, 50,100 applications have been received in Wales, where there are around 80,000 citizens from other EU countries.

After successfully campaigning for the scheme's £65 application fee to be scrapped, Ms. Bohn says the group are hoping to remove more barriers for citizens.

"We want the government to direct local councils to do more in terms of outreach– at the moment it's at the discretion of the council on what they want to do.

"Some do nothing at all, but Welsh councils have done a lot, and they've invested a lot of money into outreach.

"This December deadline is punishing people, and it's not fair – people who have lived in the UK for 40 years will be at the mercy of the government."

Wiard Sterk, 62, an advocate for the3million, has lived in Cardiff since arriving from the Netherlands in 1982, and says

"I have a very good relationship with my country and have no issue with going back, but I know people that would feel very concerned with going back due to their lifestyles," said Mr Sterk.

"For somebody like me, who has a relatively straightforward life and a good understanding of these systems, making the application won't be too much of an issue.

"But there are so many people whose lives aren't as straightforward and are therefore facing a serious problem when it comes to making these applications.

"This tour helps to highlight the issues that we as EU citizens in the UK face, and to ensure that there is awareness of these systems and our rights."