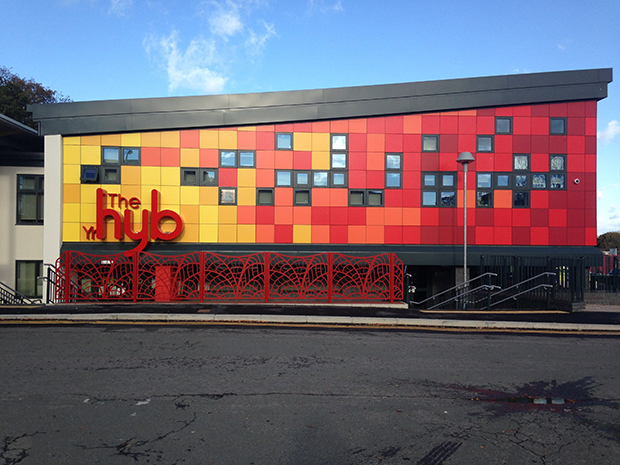 A NEW Cardiff community centre celebrated its official launch with a packed day of activities and performances for the local community.
Over 100 people attended the free event at The Powerhouse Hub in Llanedeyrn which ran from 2 to 6 pm on November 6.
Activities included live music by the Ministry of Life, performances by local schools, face painting and finally a bubble show by Science Made Simple.
The Powerhouse Hub, on Round Wood Road, is the newest Cardiff Council community centre for Llanedeyrn, Pentwyn and Pontprennau residents.
The £1.7 million project took 10 months of refurbishment and extension work to the old Powerhouse centre from 16 September 2016 to 31 July 2017.
The launch allowed the community to experience its finished facilities, including a library, café, IT suite, community meeting rooms and hall.
Local schools played their part in the celebration, with a poetry reading from St Teilo's students and a performance by St Philip Evan's RC Primary School choir.
Judith Heard, from Cardiff, commented on an open Facebook Pentwyn and Llanedeyrn news page: "It was a great event, the kids loved it."
Cllr Joe Carter, a Liberal Democrat Councillor for Pentwyn and Llanedeyrn, said:
"The Hub's activities for children during half term and summer holidays will help parents. Not enough Cardiff facilities offer activities for children during these times which is a problem for parents."
Speakers included Cllr Lynda Thorne, Police and Crime Commissioner for South Wales, Alun Michael and Mark Lawson Jones who runs Llanedeyrn Food Bank.
Cardiff Council cabinet member for Housing and Communities, Cllr Lynda Thorne, led the Powerhouse Hub project.
She said: "The official launch of the Powerhouse Hub is a great opportunity to showcase the wide range of council and partner services available there. Our celebrations to mark official openings are always fantastic events that are really popular and bring the community together."
South Wales Police have also relocated to the Powerhouse from their former station in the Maelfa centre, which is now being demolished.
At the launch, Alun Michael spoke about how the police relocation will benefit the local community.
He said: "Our presence within the building gives policing a strong foothold in the heart of the community during what is a very exciting chapter for everybody in Llanedeyrn and its surrounding areas.
"The proximity of police officers and PCSOs to the public and others using the hub to work with the community, will no doubt present many opportunities for regular engagement and interaction."
Opening hours and services available at the Powerhouse Hub can be found through Cardiff Council's Llanedeyrn Hub page.