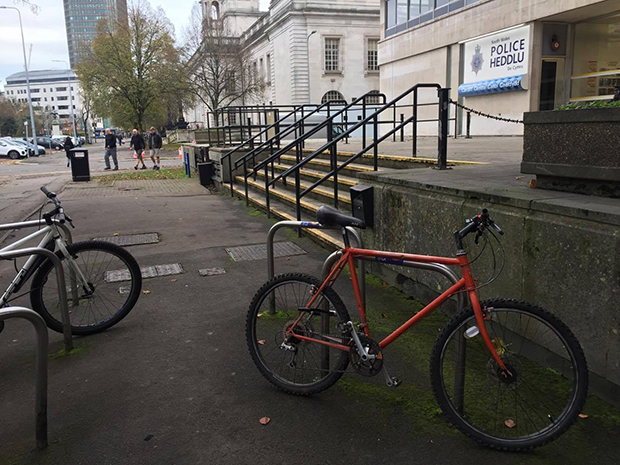 POLICE in plain clothes will be cycling around Cardiff in the new year to monitor dangerous drivers.
Operation Close Pass will see officers riding through the city and informing colleagues about motorists believed to be a risk to cyclists. 
Chief Inspector Daryl Fahey said: "South Wales Police has taken on the campaign on a pilot basis, and in the coming weeks it will be officially launched across Wales, in collaboration with Go Safe.
"Members of the public are urged to show their support and work with South Wales Police to continue improving road safety within our communities."
A similar initiative was launched in August 2016 in the West Midlands, where there has since been a 20% decrease in the number of cyclists killed or seriously injured.
Gareth Thomas, a member of South Wales Cycling, said: "It's a good idea to re-educate drivers into what they should be doing anyway, according to the Highway Code."
Caro Wild, Labour councillor and co-founder of Cardiff Cycle City, said: "Really pleased to hear South Wales Police will be doing something about this. Too many drivers behave like they have priority on the roads, when the reverse should be the case."
Chief Inspector Fahey said: "South Wales Police takes the safety of all road users, regardless of their chosen mode of transport, extremely seriously."
Coun Wild added: "Along with more 20mph zones and other traffic calming measures we hope Cardiff continues to become a better place for cyclists."
The initiative follows the launch of the Wales-wide Operation Snap, a campaign which encourages people to submit video footage of dangerous drivers.
Chief Inspector Fahey added: "The force fully supports Operation Snap, which urges members of the public to submit digital media footage they have captured of irresponsible, inconsiderate or illegal driving or road use. Footage submitted can assist in educating road users and prosecuting where appropriate."