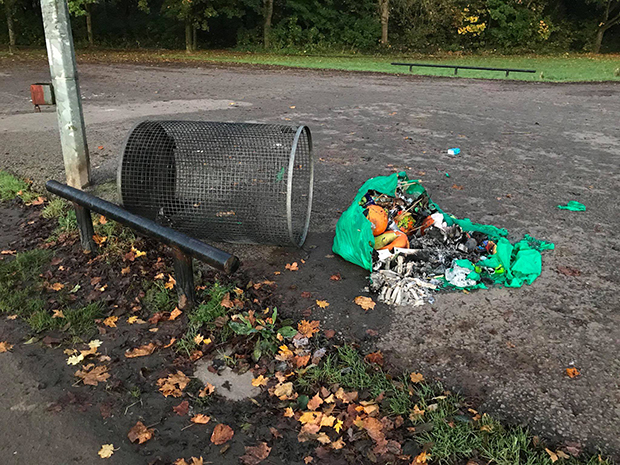 FOR the second weekend running vandals have set fire to bins around a Llandaff North park.
The arson attacks form part of a series of anti-social incidents concentrated on Hailey Park over the past few weeks.
A van driver also got struck driving through Hailey Park to reach the Taff Trail, leaving deep, muddy tyre marks across the park.
How not to use Hailey Park – this guy thought he'd drive up Taff Trail to 'look for his mate'(!!), did a U-ey & then got stuck. PLEASE – NO unauthorised idiots/vehicles on park pic.twitter.com/8mRQt2oyBG

— FriendsOfHaileyPark (@HaileyPkCardiff) November 9, 2017
Hailey Park has also been a target for waste dumping. On November 13, several black bins were left there.
The Council Cleansing Team was called in to remove the waste, and Llandaff North Labour group has said it will regularly check around the park in light of the incident.
Station Road Co-op also was targeted on Halloween by youths who set off fireworks behind the counter while staff were present.
Councillor Jennifer Davies said: "Llandaff North and Hailey Park, in particular, has experienced an increase in anti-social behaviour.
"In order to address this, Councillor Ali and I myself are working closely with our local PCSOs and residents through regular PACT meetings to share information and bring about more patrols in the area as a deterrent."
Coun Davies said this recent rise in anti-social behaviour has led to an increased security presence at the bonfire night event that took place in Llandaff North.
"These aren't one-off incidents and we're determined to work with a wide range of people in the community to drive down anti-social behaviour in the Llandaff North Ward," she said.
Concerned residents can attend the next PACT meeting this Saturday at Llandaff Hub, details of which can be found here.