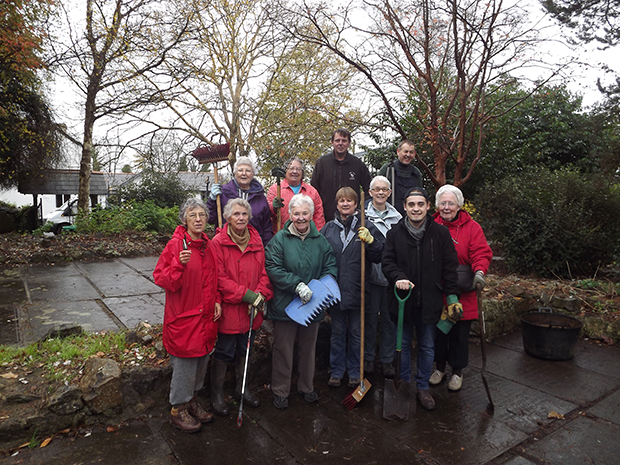 GREEN-FINGERED residents braved cold, wet weather on Tuesday, November 14 to clean up St Mary's Gardens, one of Cardiff's more secluded parks.
The clean-up at the Old Church Road park was organised by resident Zoe Pearce, and supported by Whitchurch PACT, Whitchurch Women's Institute and ward councillors.
"The gardens have obviously been a bit neglected over the years," said Richard Roberts, community park ranger, who helps out at clean-ups like these.
Mr Roberts is one of Cardiff's five community park rangers and is also responsible for Forest Farm Country Park.
"It is a community project," said Zoe Pearce, who instigated the Community Volunteer Group set up to improve the gardens.
The group picked up litter, swept leaves and trimmed back overgrown foliage.
The gardens have a long history that should be remembered, said Janice Hughes, head of Whitchurch PACT.
The gardens were originally the site of a church of the same name that was built during the 17th Century, which incorporated a chapel built in the 15th Century.
For Mrs Hughes this is also personal: "I have relatives buried here in 1865."
Some memorial stones date back to the late 17th Century, the oldest belonging to James William who died in 1695.
Evidence of church settlements on the site go back even earlier to the 12th Century.
The church was demolished in 1904 after a new parish church had been built in 1885 on Church Road.
After negotiations with the Church in Wales, Cardiff Council took over responsibility for the disused churchyard in 1972.
The council used a £14,500 grant from a scheme known as Operation Eyesore to transform the space into St Mary's Gardens, officially opened in 1974.
In the same year it won an award at the Wales in Bloom competition and even had its own park keeper, who had a mess room and shed in the gardens.
However, after being transformed from an eyesore into an award-winning garden this space has once again become neglected.
Mrs Hughes worries that a lack of rangers means that park gates are sometimes unable to be opened and closed at certain hours.
Drinking and antisocial behaviour has been reported by people in the flats that face the gardens.
Concerns were raised with Cardiff Council and South Wales Police over two years ago by Derek Hector, community watch coordinator for Heol-y-Forlan.
Mr Hector and others from the local area now regularly open and close the gates resulting in a marked fall in antisocial behaviour in St Mary's Gardens.
Residents hope that with more help they can restore these gardens to their former glory.
Those who wish to volunteer at future community events can contact Zoe Pearce on saintmarysgardens@gmail.com.