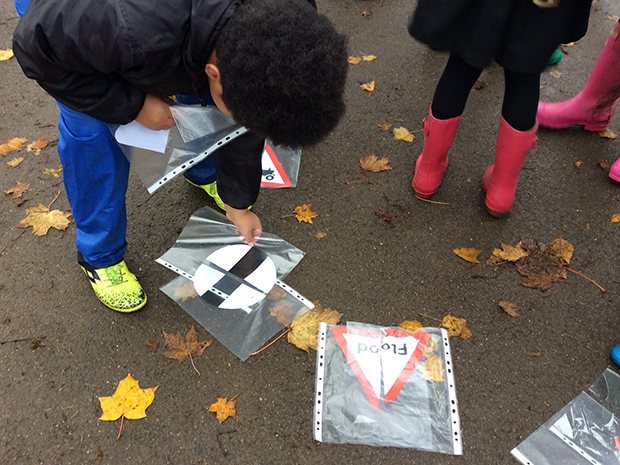 CONCERNS over speeding drivers led Coryton Primary School to run a road safety week between November 20 and 26.
Parents and teachers hoped the week of activities would highlight the issue of speeding in the area and help educate pupils about staying safe on the roads.
"Despite having two highly valued crossing patrol wardens in the area at the start and end of the school day we have received reports of frequent incidents where cars have either ignored the crossing patrol staff or driven through red traffic lights," said head of school Gareth James.
Coryton Primary School's road safety week coincided with road safety charity Brake's 2017 initiative where the theme was Speed Down Save Lives.
The school began the week with an assembly during which resources from Brake's website were used to introduce pupils to road safety.
Each school year learnt about issues in their own way ranging from Cardiff Road Safety Team visiting year six, year five estimating car stopping distances and years one to three designing road safety posters.
"I made a poster with red, yellow and green lights on it and a car, to keep silly people safe," said William from year two.
Samantha from year three said: "You've got to slow down to 20, to not hurt people so much."
Along with the Cardiff Road Safety Team year six researched road death fatalities in Wales to see if they were linked to age.
"There were more fatalities in the 17-20 age range and this is probably because they've just passed their driving tests and are not very experienced behind the wheel," said Harrison from the class.
Road safety is particularly important to this school as it is located just off the busy Pendwyallt Road connecting to the Coryton Interchange, one of the largest roundabouts in the UK.
According to a pupil-led travel survey over half the school's 218 pupils have to cross these busy roads on their way to school.
Community coordinator Pamela Coombes has helped monitor traffic flow on Pendwyallt road for the last 10 years with Pendwyallt Road Community Watch and describes the road as a "rat run".
A parent with two children at Coryton Primary School, who wished to remain anonymous, has been made aware of over 60 serious traffic incidents that have occurred along local roads in the last academic year.
They worry for their children's safety as drivers have been reported driving through red lights at the pedestrian crossing on Pendwyallt Road.
"The road and junction are so busy that drivers just seem to "not notice" the crossing. I fear that it is just a matter of time before a more serious accident will occur," said the parent.
Department for Transport statistics highlight the importance of ensuring young children's safety. There were 5,998 road casualties involving children under 16 last year, making up over ¼ of all pedestrian road casualties.
While the number of car user casualties for the second quarter of 2017 is estimated to have fallen by 12% compared to the same time last year, the number of road casualties involving children has risen 6% to 1,570.
Local community group Whitchurch PACT are active campaigners for safer roads in the area and have reported several incidents to the school.
The group ran their own community speed watch during road safety week along with parents from the school and Whitchurch PCSOs Jay Toor and Esther Lewis, where they spent an hour on Tuesday, November 21 monitoring traffic on Pendwyallt Road.
"We had many drivers who reduced their speed. However, two drivers felt they didn't need to reduce their speed and were clocked travelling at 40mph," said head of Whitchurch PACT Janice Hughes, who also lives on Pendwyallt Road.
Letters were sent to all drivers who exceeded the 30mph limit to remind them of the speed they were going.
As head of Whitchurch PACT Mrs Hughes campaigned successfully for a solar-powered speed indicator to be installed in 2017 facing traffic coming down the road off Junction 32.
While this acts as a deterrent, Mrs Hughes and many other residents want a speed camera to be installed on Pendwyallt Road to help prevent speeding.
Mr James stresses that road safety is for life, not just for a week.
"This is why as a school we strive to promote road safety as often as possible throughout the school year," said Mr James.