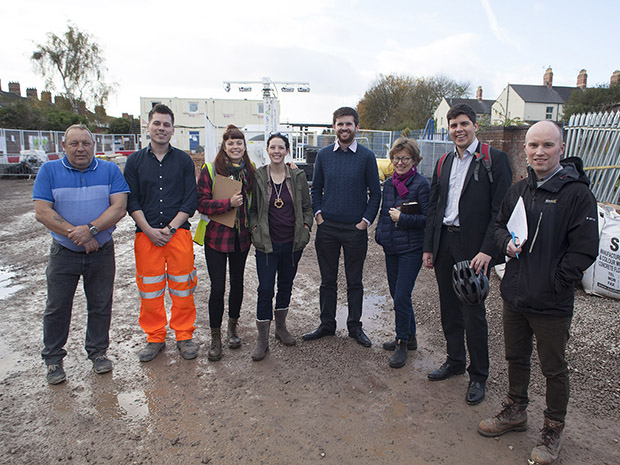 A SITE used to store construction material in Splott could be transformed into a community garden, children's playground or even a chicken coop in the next couple of years.
The Railway Street site has been used by Network Rail during upgrade work on Splott Road Bridge.
However, with this work due to be completed by August 2018, thoughts have turned to how the council-owned land could be used next.
"This area has been closed off to the public for as long as I can remember," said Splott councillor and Cardiff council leader Huw Thomas.
"Having met with members of the community on site last week, I'm really excited about how we could create a wonderful green space here for the residents of Splott and Adamsdown.
"I've already contacted council officers to kick-start the process to open the site up to the public as soon as the Network Rail work is finished."
One group interested in the site is Green City Events – a community interest company also based on Railway Street.
"We have been looking into this land for a long time, but because Network Rail have been here, we haven't made much progress," said Rebecca Green, director of Green City.
If the group takes on the land, it will look to the local community for ideas on what to do with it.
"We will be holding a community event in the new year where people can share their ideas on what they would use the space for," said Ms Green.
"I am very keen to make sure that children and young people in Splott and Tremorfa are consulted on decisions that affect them," said Splott councillor Jane Henshaw.
"I would love for children in Splott to have an adventure playground, but that's just my thought. After consultation we might find that children don't actually want one!"
A few ideas have already surfaced, Ms Green said, one of which is to turn the land into Cardiff's very first community-owned chicken coop.
A community garden is another possibility, although this would be likely to need raised beds if the site's railway location has affected soil quality.
Green City Events will also be meeting with the creators of The Bone Yard in Canton and the future Bridge Studios in Ely to see if something similar to their shipping container creative studios could work on the site.
"We think a hub like this would be an amazing idea, but it's still super early days," said Ms Green.
For updates on the project, follow Green City Events on Twitter or sign up for their mailing list.