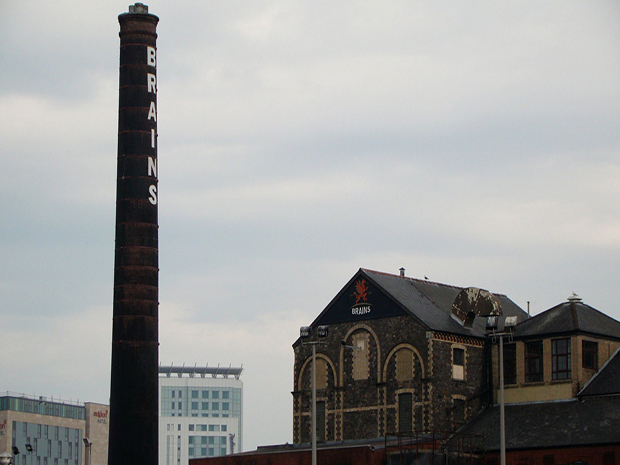 THE iconic Brains brewery site, which has been a landmark in the city centre for 135 years, is to become part of a waterfront regeneration scheme as the company moves to a new home.
The brew-house and chimney will stay and be converted into a pub, visitors centre and microbrewery which will remain owned by Brains.
But the rest of the site on Crawshay Street will be redeveloped as part of a partnership between Brains and Rightacres, a property development company, for an undisclosed sum.
A hotel is planned for the site, along with a 12-story office block, a multi-story car park and an area which could become a university campus.
Meanwhile, Brains will continue brewing beer at their new site on the Pacific Business Park, in Tremorfa.
Tim Lewis, Communications Manager for Brains said, "We'll have a bit more flexibility to come up with a lot more things, we'll have a bottling plant and a facility to cask the beer on site.
"We'll be experimenting with a new craft beer range, and we'll try smaller batches of different types of drinks on the new site."
John Rhys, the Chairman of Brains, said, "We are delighted to have secured our new home, which represents an exciting new chapter in our 135-year history of brewing and hospitality retailing from our Cardiff base."
While the move – and the redevelopment opportunities it brings – will have a significant impact on the city centre, it caused less of a stir among pub-goers today.
Martin Holland, 66 from Splott said, "If it brings jobs to Tremorfa, then that's great."
Isaac Lewis, 60, said "It doesn't make a difference to me. It's a brewery not a pub, so I wouldn't drink there. Just as long as they're not sacking people."
Brains are planning to move the head office and support centre to the Pacific Business Park in May or June next year, with the brewery and production beginning there in early 2019.
The Chief Executive of Brains, Scott Waddington said, "Courtney House offers us the ideal facility to construct a modern, fit-for-purpose new brewery."