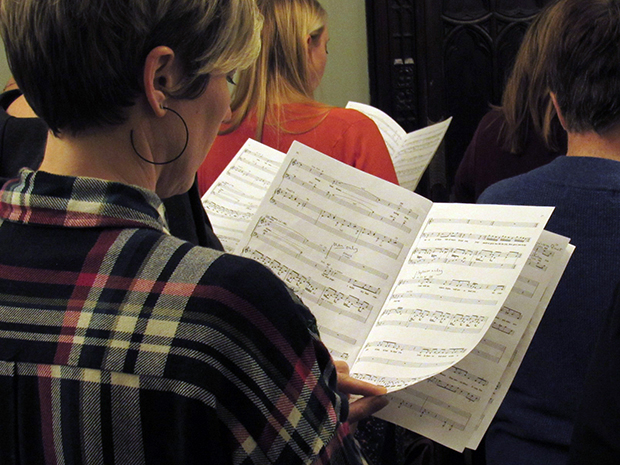 FOR some people, singing in front of others is anything but therapeutic. But for members of the Insole Court Community Choir, it's a relaxing escape from the stress of daily life.
Every Thursday evening from 7.30pm, 40 people come together in the spacious drawing room of a Grade II* listed mansion to rehearse medleys and compositions.
They're led by Tim Riley, who runs the Primo School of Music in Llandaff and was formerly a Composer in Residence at the Welsh National Opera.
We sat down with four members in Insole Court's gothic reading room to hear how being part of a choir can bring purpose and calm to your life.
Cheryl Payne, Soprano
66-year-old Cheryl Payne from Radyr used to be a triple threat (someone who can sing, dance and act).
She's performed in shows as a hobby since early secondary school, taking part in everything from Stepping Out to the comic opera, Gondoliers. With an impressive portfolio, she never gets nervous before a show.
Cheryl has MS, which has affected one of her legs. Although she's still quite mobile, she can't dance in performances anymore and stopped singing for about four years. The Insole Court Community Choir offered her the chance to start up again, with a less demanding schedule.
"It means I'm not letting go of what I used to do," she says. "They say that singing is one of the best things to do. Sometimes you think, 'I've got to go tonight and it's cold and damp'. But when I'm here, it's great. By the time I go home, I feel quite uplifted!"
As she takes the register each week, Cheryl knows more people than most. She enjoys the responsibility and the chance to be sociable. "You find different people stand out to others. Some people are quiet and reserved. Others are more talkative. There are girls who I sit with now and it's like I've known them forever."
Simon Wakefield, Baritone
63-year-old Simon Wakefield is a Cardiff University lecturer living in Llandaff. He's been involved with the choir since it formed and has more of a choral history than some members.
Simon stopped singing years ago when work and family life got too busy, but always planned to start again after retirement. When Insole Court Community Choir appealed for members, he felt it was time to "see whether the voice had still got anything in it".
"It takes me out of university hassle and grimness," he quips with a laugh. "I lose myself for an hour and a half a week. I'd just be sitting at home doing emails if I wasn't doing this. It's a necessary distraction to provide some relaxation."
Unlike Cheryl, Simon "always" gets nervous before a performance. "I've been lecturing for nearly 40 years and I still get nervous at the beginning of October with the new 160 first years. It's a performance.
"It doesn't mean to say I'm a shaking wreck and not going to sleep the night before because, hey, it's just a bit of fun. But there's an element of tension there."
Lynne Phillips, Alto
At 48, Lynne Phillips from Whitchurch is the youngest member of the choir to speak to me. She joined in September with a friend so they could have a weekly catch up.
"I used to sing hundreds of years ago in school," she says with a smile. Though she's not a churchgoer, she loves singing hymns at weddings and funerals, and this interest led her to join the choir.
Lynne doesn't read music, so she uses recordings that are uploaded to SoundCloud to learn the tune before rehearsals. She sings along in the car, earning her a few "weird looks" at the traffic lights.
The choir has helped Lynne rekindle a love for a childhood hobby and gives her "some purpose of an evening".
She says: "You just blend into the furniture if you do nothing. It's good to challenge yourself sometimes. I may not be able to sing a solo or read music, but I enjoy it and I'm still here. I haven't been thrown out yet!"
Geoff Morgan, Baritone
Geoff Morgan, 73, is an Insole Court trustee. He joined the choir when it started earlier this year, with no more experience than the odd sing-song in the bath.
He'd always wanted to join a choir, but a busy working life left him with little spare time for evening commitments.
Like many members, Geoff finds the Thursday evening rehearsals therapeutic. "You still get the tense days. I sometimes think, 'Ah, shall I go?'
"But you come, and you're so concentrated on the music and the timings that your troubles do disappear into the background a little bit."
Joining the choir was a way for Geoff to make sure he didn't become isolated after retiring. "When you're working, you don't realise that when you leave, you lose that social contact in a group. So [the choir] is lovely for that," he explains.
Want to get involved?
Insole Court Community Choir meets in the drawing room at Insole Court, Llandaff, every Thursday during term-time from 7.30pm until 9pm. The first session is free, after which there is a £4 fee. For more information, contact enquiry@insolecourt.org.