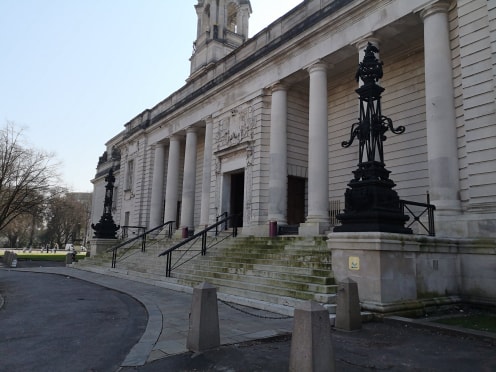 A MAN who committed a "depraved and disgusting" cocaine-fuelled attack on his girlfriend on Christmas Day has been handed a two year suspended sentence. 
Paul Jantz, 37, of St Pierre Close, St Mellons, was arrested that day. 
The court heard that then-girlfriend Karen Morgan was subjected to horrific injuries to her face, neck and chest in the altercation that she is still recovering from. 
She lost three teeth from a blow to her face in the attack and now has to use dentures. 
The incident began at 3pm when Jantz was smoking crack cocaine on the settee whilst Ms Morgan made a cup of tea, when she returned she also smoked crack cocaine. 
When she went to make another brew, Jantz turned off the electricity and began accusing his girlfriend of conspiring against him and placing listening devices around the house. 
After threatening her with a knife, he began to repeatedly assault Ms Morgan. 
The victim said in a statement: "I honestly believed I was going to die." 
Jantz, in what was described to the court as a crack cocaine-induced psychosis, told his victim to reveal the surveillance devices or he would kill her cat. 
He then forced Ms Morgan to sit in her cat's litter tray whilst he assaulted her with a towel, which he tied around her throat before leading her into the living room to identify these devices. 
At this point, Ms Morgan was covered in blood and told Jantz that she would say the wounds were self-inflicted. When he went to the kitchen for a lighter, she ran into the street and asked a stranger for help. 
Though the Judge John Harrington QC described the assault as "cruel and unjustified", the fact that the pyschosis was drug induced meant he had reduced culpability in relation to the crime and otherwise had no previous convictions as an adult. 
Although Jantz pleaded guilty to one charge of unlawful wounding the judge said that he could not ignore the context of the attack: "The terrible event happened on Christmas day, and it is significant that it was Christmas Day," said the judge.
"Ordinarily I would send you to prison for three years." 
As Jantz had already spent three months in custody and his parents had agreed to give him work at their family shop on Broadway, the judge decided against a custodial sentence. 
In addition to the suspended two-year sentence, a restraining order and rehabilitation order were also placed on the defendant.
Before release, the Judge cautioned Jantz about how the court would treat him if returned: "It will be a long sentence because that is what you deserve. Get out," he added.