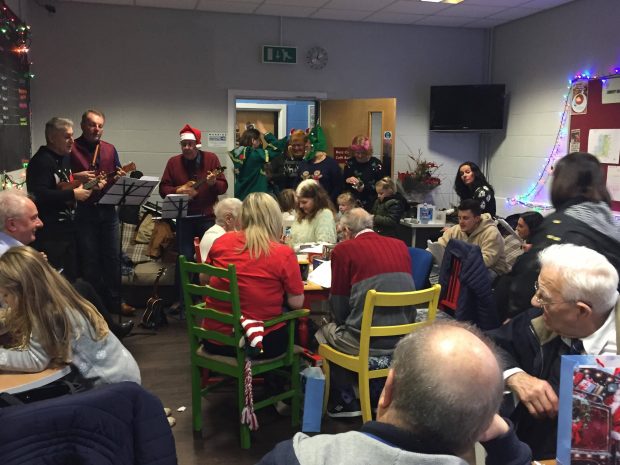 A CARDIFF community centre is opening its doors on Christmas Day for those who would otherwise spend the holiday alone.
It is the second year that volunteers at Maes-y-Coed centre, Heath, have hosted the party and they are appealing for extra help and donations.
Darren Smart, trustee at the centre said: "Last year we posted the news on Facebook and had over 90,000 views. People who are not even local saw it on Facebook and dropped stuff off, they even baked cakes and made food.
"The publicity was great because lots of people came. Not just those who didn't have anyone else, but whole families.
University Hospital Llandough collected shoeboxes filled with small gifts and donated them to Maes y Coed.
Mr Smart added: "One woman cried when she received the shoebox because her husband had never believed in Christmas."
Christmas Craft Fair
The community centre is holding events throughout the festive season, beginning at 10am on Saturday (November 26) with a Christmas Craft Fair with stalls by local businesses. Entry for adults is £1.
Jeweller Lynette Davies has taken a stall. She started making jewellery with her daughter, Sarah, and granddaughter, Brooke, to help deal with her father's death in 2014. The family now run Brillioso Treasures.
Ms Davies said: "By charging a reasonable stall fee the centre builds up funds to help keep them going. We like to give customers the opportunity to buy unique gifts at reasonable prices as this then helps us to donate a percentage of profits to charities.
"We have done fairs supporting Ty Hafan, Sepsis Trust, George Thomas Cancer and also British Heart Foundation, plus local school PTAs.
"We sell a lot of pocket money priced items for children which helps the money they have to spend go a little further."
Santa to visit after lantern walk
A Community Christmas Lantern Walk will take place on December 2 from 4.30pm – 6.30pm. Families will sing carols and carry handmade mason jar lanterns on the walk from Llwynfedw Gardens bowling green to Maes y Coed.
Christmas lights at the centre will be switched on, followed by an evening of refreshments and entertainment including a performance by Capital City Church Band and a visit from Father Christmas and his Elf.
Ukulele nights will also held throughout the season.
To get involved or donate call 029 2062 6973 or email sophey@myc.wales.
Maes y Coed is a not for profit community centre run by the community, for the community. It hosts a range of classes and activities for all ages.

Find

their website

here

.