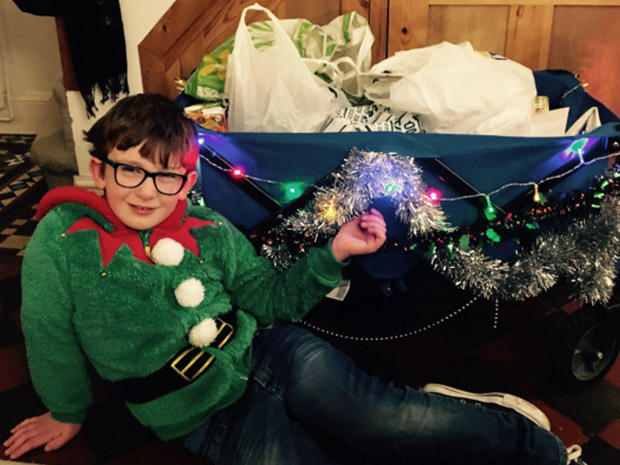 A BOY from Splott has been dubbed "one of life's little heroes" after spending his free time collecting donations for his local food bank.
Seven-year-old Aneurin Brute-Woods has earned the praise of councillors, businesses and residents after working with mum Emma to collect food from people on his street.
Miss Brute, who works at United Welsh housing association, told her son that her office was collecting food to help those affected by the roll-out of Universal Credit.
When Aneurin heard what they were doing, he wanted to help.
The pair sent Christmas cards to houses on their street, along with a handwritten note from Aneurin asking people to donate.
They then donned their most festive outfits on Sunday evening and took to the streets with a homemade sleigh to pick up people's offerings.
"I felt happy, because I was giving lots and lots of people food which they can't afford because they don't have any money," said Aneurin.
"We haven't had an official weigh-in but we're up to 20 big bags of tins and pasta," said Miss Brute. "It's fantastic, the support we're receiving."
She and Aneurin are hoping to do the same again this Saturday, with help from Aneurin's best friend Penny.
Miss Brute set up a blog on Sunday evening, which received over 200 views in its first 24 hours.
"The story is shared to encourage other folk to do the same in their own street," she said.
"I am hugely impressed with Aneurin's efforts to collect food for the food bank," said Splott Labour councillor Edward Stubbs.
"Good deeds like this not only help those in need, but bring communities together. It was lovely to meet Aneurin and his mum and hear about how generous residents had been."
"I am really heartened by Aneurin's thoughtfulness towards those experiencing hardship," said Jane Henshaw, also a Labour councillor for Splott.
"I am sure his action will inspire others to make a contribution to the food bank."
However, Aneurin's good deeds shouldn't be necessary, she said.
"I find it heartbreaking that in the sixth richest country in the world we have adults and children who are dependent on the kindness of others to eat."
Splott resident Lynne Thomas, who runs local website Inksplott, described Aneurin's actions as "truly heartwarming".
This is a "wonderful, inspiring story to start the week," she said.
"Good on Emma and Aneurin and all the kind neighbours who donated food. It's great to see such community spirit in Splott."
Cardiff Foodbank also thanked the pair on Twitter:
This is fantastic! Thank you so much – so many people in our communities in Cardiff have such incredible hearts to help others out who are in crisis. THANK YOU Everyone for your donations, they make such a difference! https://t.co/GtTMfcVXPp

— Cardiff Foodbank (@CardiffFoodbank) November 27, 2017
Meanwhile local cafe Luvly Grub put together a box of treats.
"We thought we would buy sweets as Christmas is for kids," wrote owners Julie and Paul Lane-Anderson.
However, they included a tub of Heroes chocolates for Aneurin himself –  describing him as one of life's little heroes.
Hi Aneurin, as promised here are your items for your collection. We thought we would buy sweets as Christmas is for kids, you have done an amazing job so we have bought the tub of Heros just for you as you are one of #splott #tremorfa #lifes little heros ????♥️ pic.twitter.com/e3M7JvJX3M

— LUVLY GRUB (@luvlygrub) November 27, 2017
Aneurin's donations will be heading to Splott's food bank at St Saviour's Church, open Wednesday 1-3pm and Thursday 6.30-8pm.
Those wanting to help can contact Emma via Twitter, Facebook or her blog, or donate to one of Cardiff's many other food banks.