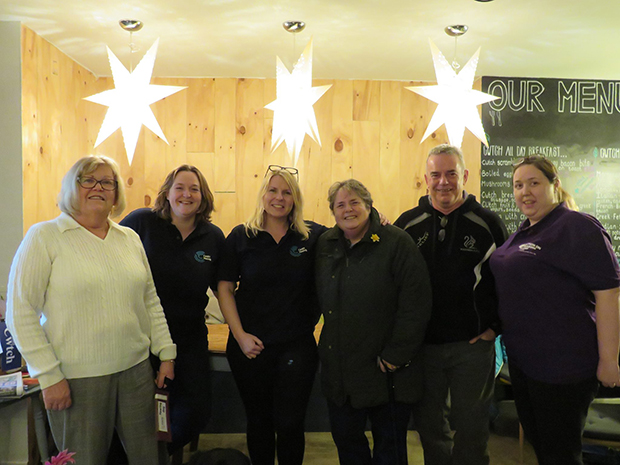 A GET-TOGETHER for people with hearing loss has been launched in Llandaff North.
We're All Ears at Coffi Cwtch is a free monthly social event for those who would like advice from an audiologist.
It was organised on November 22 by audiology business Cardiff Hearing, which was set up by the former NHS hearing specialist Sonja Jones and social worker Emily Batchelor.
Ms Batchelor said: "This event is for people like my granddad for example, if he was having trouble with getting his battery out, he could pop down, have a cup of tea, and Sonja can explain how to put the batteries in and out."
Ms Jones added: "Some people who came along today just wanted particular advice on things like paediatric audiology or tinnitus."
Ms Batchelor said: "We wanted a down-to-earth friendly face, rather than a process that's rushed. Big corporations give you too much work, and you can't provide a quality service where a person walks away feeling cared for."
Attendees were offered hot drinks and the chance to socialise at Coffi Cwtch on Station Road.
A raffle was also held with proceeds to the charity Action on Hearing Loss Cymru.
A representative from the charity also attended to provide information and support.
Ian Fido, from Whitchurch said, "I thought it was fantastic! I wasn't sure what was in store, but I got the information and support I wanted, I'm really happy with it."
"It's lovely and relaxing, it gave me the chance to come in and talk about my condition with likeminded people and professionals."
Ms Jones added: "Today went better than expected, I didn't think as many people would come!"
Information on future events can be found here.
Hearing loss fact-file:
1-in-6 people suffer from hearing loss nationally, with over 70% of British over-70s having some form of hearing loss.
In Wales, this amounts to 575,500 people.
Only around 40% of people who need hearing aids have them.
Evidence from Action on Hearing Loss suggests that hearing aids help reduce the risk of dementia in those with hearing loss, as well as reduce the risk of loneliness and social isolation.