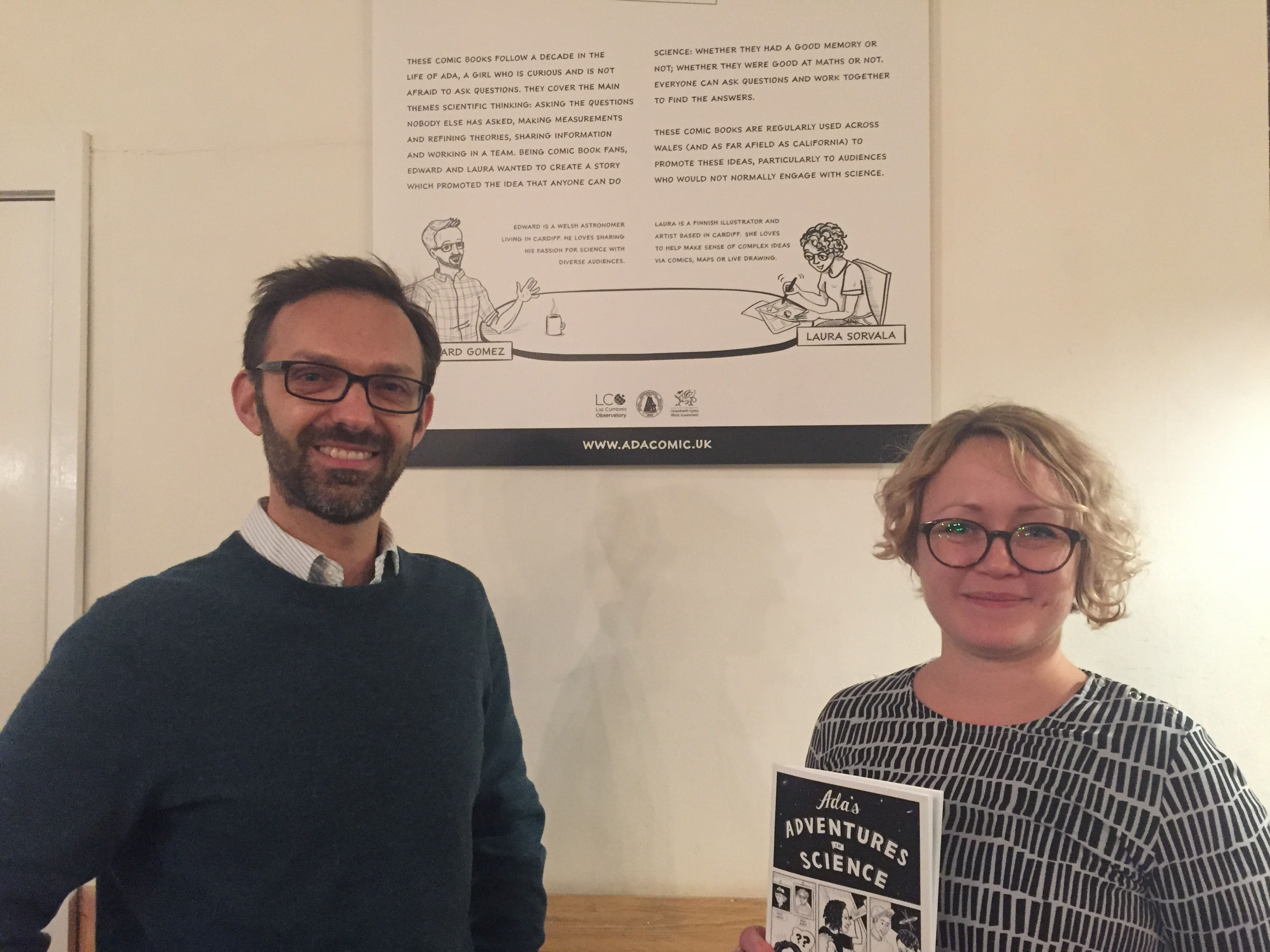 A CARDIFF astronomer and a Finnish artist have come together to make a series of comic books for Welsh schools and are campaigning to send them around the world.
Edward Gomez, educational director at Las Cumbres Observatory, at Cardiff University, and Laura Sorvala, a self-employed artist, met at a TEDx talk in the Welsh capital in 2014.
The two struck up a friendship over their shared love of comics. Mr Gomez said: "We used to meet up with another friend and exchange comic books and I said, I have this crazy idea why don't we make our own comic book?"
The friends wanted to create the trilogy to help explain difficult topics in science to children.
Ms Sorvala said: "I draw things and think of ways to communicate better with visuals, that's what I do for work."
Mr Gomez added: "The idea is you can communicate a really complex topic not only through pictures, but even more through a comic because it's a moving narrative."
The pair also think there is an educational gap in the way science is taught in schools, Mr Gomez said: "Education is terrible at the moment, science has been taught on facts since the 1980s.
"GCSEs and A-levels have been very much about marking to buzzwords and that means because it is buzzwords, it is not testing higher reasoning, capacity building and problem solving.
"What are you doing then is just testing the students ability to remember buzzwords."
Mr Gomez and Ms Sorvala officially celebrated the launch of their third comic book and completion of the Ada's Adventures in Science on January 17 at The Little Man Coffee Company in the city centre.
To launch the project the pair were given cash by the Welsh Government, Las Cumbres Observatory and The Royal Astronomical Society. However now they have a Kickstarter fund with a target of £6,000 to help get the comics into Welsh schools and around the world.
The money will also help professionally print 20,000 copies of a compilation of the three Ada comic books and an educational activity pack.
Ms Sorvala and Mr Gomez carefully chose the characters of their comic books, choosing Ada, a woman named after the computer scientist Ada Lovelace.  
Julie Morgan, Assembly member for Cardiff North said: "In Wales we are so anxious and keen for our children to be involved in science and we know there are barriers for them to be involved.
"I think the initiative to be taken in terms of producing something readable and presentable that can reach out to children, is exactly the way to go ahead.
"We want to make science accessible to everyone, so this completely aligns with the vision for Wales and for children and young people."
The friends also left the comic book black and white so the pupils can colour them in. Also teachers can download and print it freely, without worrying about the cost of full colour print.
Sarah-Eve Roberts, project coordinator of Universe in the Classroom, run by Cardiff School of Physics and Astronomy, has been taking the first Ada comic book into Welsh primary schools for the last year and a half.
"It is a great tool to teach about equality and diversity and something all primary schools in Wales have to teach now," she said.
"Edward and Laura have chosen some key questions, which seem very simple but have led to massive scientific discoveries.
"We want to say 'even if it seems stupid we should ask that question as you might find out something really exciting'.
"Schools have been really positive and visual resources go down really well. Teachers can easily photocopy and reprint them."
You can donate to the project here.