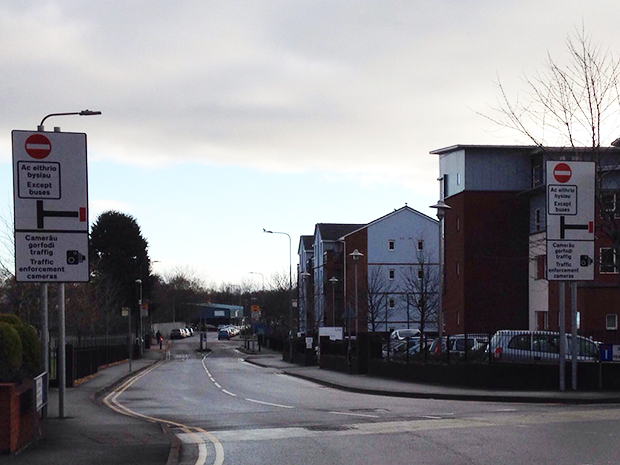 NEARLY 20 drivers a day are being caught out and fined after traffic bollards were replaced by cameras in Llansihen.
In what has become known locally as "Busgate-gate" residents say they are confused about whether cars are allowed to drive on a bus lane in Malvern Drive after rising bollards were lowered permanently in August.
No other changes were made to the existing signage or road markings, but cameras were installed at either end to control vehicle movements between Caerphilly Road and the Ty Glas Industrial Estate.
Since the change was made by Cardiff Council on August 7, a total of 2,776 drivers have been issued with a £70 penalty notice, which is reduced to £35 if drivers pay within 21 days.
Local resident Ashley Jones was issued with four penalty notices in just one day.
"I was going back and forth to Screwfix. I didn't know you couldn't go down there," he said. "I paid them all."
Another resident, Julie Williams said: "I thought the bollards were removed to ease the congestion at Thornhill and Caerphilly Road crossroads. I had no idea the council were issuing fines."
Matt Wakelam, head of infrastructure and operations, wrote to councillors in 2017 to confirm that Cardiff Council would begin enforcing traffic control on the bus lane using cameras from August 7.
The letter said that no warning notices would be provided as vehicles were already not permitted and did not drive through the bus lane because of the bollards.
Of the 2,776 fines issued, 944 were still to be paid, confirmed Cardiff Council in a Freedom of Information request. If all fines are paid at the lesser amount of £35, then the council will have earned £97,160 in just five months.
One resident from Llys Enfys, a housing estate immediately next to the cameras, successfully appealed after receiving multiple penalty notices in the same day, and was only required to pay for the first notice.
So far no-one has been prosecuted for not paying. However, 136 fines have been waived between August and December, although the council would not give the reasons for the driver appeals.
David Newland, a Llanishen resident, believes that the poor signage has been a major factor for the appeals and that people aren't aware of the cameras at all.
"I watched a car drive through the other day, realise the mistake, turn round in Pentland Close and go back through, so I assume that's two fines," he said.
Sophie Louise has just moved to the area and got a ticket on moving day as she couldn't find her flat and didn't see the sign.
"I've appealed it but i'm not particularly hopeful especially considering how few they have waived so far," she said.
While the issue has been highlighted in Llanishen, other areas of Cardiff may soon experience similar confusion as automated bollards are replaced by cameras.
According to Mr Wakelam, "All new bus gates moving forward will be camera-enforced and automated bollards used as bus gates will be replaced with enforcement cameras.  
"The only area where automated bollards will remain is around the city centre where they are utilised as a security measure as well as access control."
The council proposed to replace automated bollards with cameras across Cardiff before the last election, but the reasons given for this were largely given as a cost saving exercise.
But it now seems to be about cyclist-safety.
Mr Wakelam told The Cardiffian that automated bollards are not generally found in residential areas and therefore there is a greater risk to motorists and cyclists that they may ignore the signs and drive into the bollards.
"This would likely damage the bollards and place the road user at risk in terms of injury and or whiplash," he said.
"At other automated bollard sites a number of cyclists have had near misses and a couple have come off their bikes as they were unable to see the bollards as they were raising out of the ground and they went straight over their handlebars."
Mr Newland is sceptical about cycle safety being given as the reason for the change.
"Harbour Drive down in Cardiff Bay still has raised bollards. We were told at the Police and Communities Together meeting that the overall policy was to lower bollards to protect cyclists, so why Bay cyclists aren't given the same consideration as Ty Glas cyclists I can't say yet," he said.
Permanent signs have gone up on Smith Road in the last month, which Mr Wakelam said were not a requirement and were placed to appease local resident concerns.
He added: "I recognise that the fines do seem high but the council has done everything it can to warn drivers that this is a bus-only gateway."
All money received from the fines is ring-fenced by the council and any surplus following costs is spent on improving transport such as road safety measures outside schools, 20 mph limit areas and cycle routes.