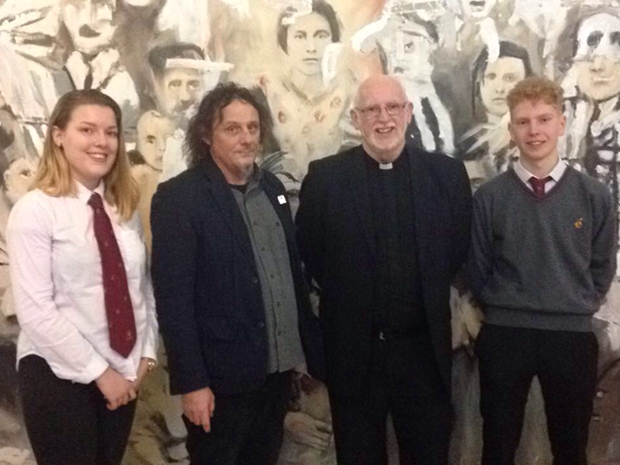 WELSH leaders and representatives came together to honour and remember Holocaust victims at the annual Memorial Day service at Cardiff City Hall on January 29.
First Minister Carwyn Jones and Cardiff council leader Huw Thomas attended the public service alongside almost 500 people.
Among the speakers were Lady Milena Grenfell-Baines, Dr Mukesh Kapila CBE and Holocaust Educational Trust ambassadors from Ysgol Gyfun Gymraeg Plasmawr.
After the service, Lady Grenfell-Baines said: "This is something that should be happening all the time, not just one day of the year. The memories of terrible things that happened help us realise the importance of what is still happening."
Lady Grenfell-Baines MBE described how she escaped Prague and was saved from the Holocaust as a child with her younger sister Eva.
She was reunited with their family after boarding a train helped by Nicolas Winton, who went on to save 669 children in all.
Speaking alongside her were Eluned Anderson and Daniel Rees, 18, pupils at Ysgol Gyfun Gymraeg Plasmawr.
They spoke about their "Lessons from Auschwitz" project and their experience visiting the site of the concentration camp with the school in February 2017.
Ms Anderson, of Gwaelod Y Garth, Pentyrch, said: "It was incredible and just so moving seeing the actuality of it all and the living proof that this happened. It is so important that we have that proof and still recognise it."
"For me, being around all of these people and the survivors themselves shows us how important the memory of the Holocaust is to so many individuals and our leaders," she added.
Mr Rees, of Northumberland Street, Canton, said: "It was amazing that we met a Holocaust survivor. The project gives us a lot of opportunities to spread the message."
After the service artists Macie J Hoffman and Nicola Tucker showcased their joint exhibition "Blue Line", which was previously shown at Barry Town Hall in 2012.
Mr Hoffman and Ms Tucker have collaborated for many years and also travelled round Europe, going to synagogues and attending workshops together.
Ms Tucker said her "Shteti" installation piece, which translates as "State" from Albanian, is made of pre-Victorian Russian oak, and recalls the expulsion of Jews from Russia in 1880.
Ms Tucker said: "I'm considering what remains after trauma. This relic embodies the human body and what is left behind. It is precarious."
"Not only must we not forget the Holocaust, but the subsequent genocides which happen today. I wanted to consider all the people who never got the chance to love, to grow, to achieve," she added.
Ms Tucker also recalls how she felt the Holocaust spoke to her situation as a child with a disability.
Ms Tucker said: "As a child the age of two, I went under a lorry and lost a leg. When I became aware of the disabled genocide project that Hitler did, I realised that it would've been me in their place. It was anyone that was deemed to be different."
Ms Tucker is involved with the Tell MAMA service which records and reports anti-Muslim hate crime and speech. She says it is imperative for people to "speak up and speak out."
Mr Hoffman, born in Wroclaw, Poland, has worked in London for the past five years.
His wife Sylvia Hoffman said: "A lot of his work is about problems in general. It is concerned with the human condition and the human being dealing with strong events in their life."
The Walls of Hope, designed in partnership by the Welsh Government and Cardiff Council, allowed attendees to write their thoughts from the day.
Emma Wolski, a member of the Welsh Government's cabinet communication team said: "We wanted to invite people to leave their words. After this event, it is going to displayed in the Merthyr Tydfil Libraries."
Among the people writing on the walls were representatives from the interfaith council of Wales, Jewish councils and synagogues, including chairman of the Cardiff Reformed Synagogue, Mark Stone.
Mr Stone 66, of Adar Y Mor, Barry, said: "It is a wonderful thing, I think everyone should come along to this."
Maureen Powell, Chairman of Monmouthshire county council, echoed this sentiment and how powerful she felt the speakers were.
Ms Powell, 80, of De Cantalope Close, Abergavenny, said: "It was very moving and very sincere. It brought it home to many people, what really went on. It is so easy to forget these atrocities. It still goes on in different parts of the world. What is so terrible is that we did not fully know what went on until after the war."
"I was two years old when the war broke out, it left a great impression on me. I still have dreams about it," she added.
More information about the speakers, artists and Holocaust Memorial Day Trust can be found here.