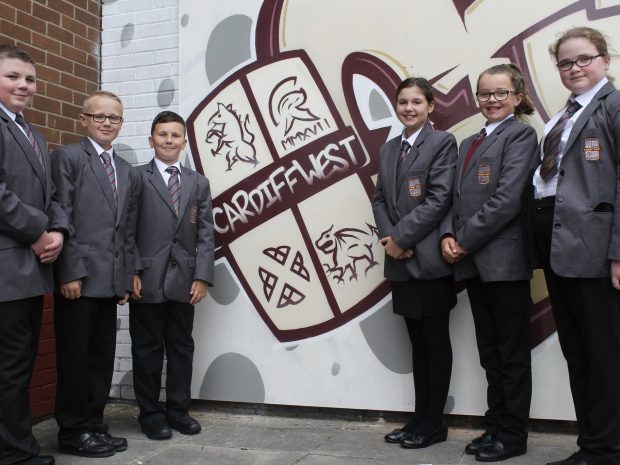 THREE Cardiff schools have been given a red rating in this year's Schools Categorisation Ratings by the Welsh Government, meaning they require immediate support.
This categorisation system gives schools a rating of green, yellow, orange and red. This reflects the amount of support the school requires.
Receiving a red rating means that the schools are in the greatest need of improvement and will be given up to 25 days of immediate intensive support. The progress of red rated schools will be closely monitored to make sure the necessary improvements take place quickly. More information about the rating system can be found here.
The three schools rated red are Pentyrch Primary School, St. Albans RC Primary School and Cardiff West Community High School.
No teaching staff were available to comment on the outcomes at Pentyrch Primary School or St. Albans RC Primary School. However, parents of children at Pentyrch are critical of the system.
Pentyrch resident Kylie Sheppard said: "Categorisation has taken place before the changes and improvements that are currently being implemented and monitored have had a chance to bed in and really make a difference."
"The school and community are trying to work towards positive outcomes and attitudes towards the school and it would be a real shame if this fairly pointless and crude traffic light categorisation system were to be used as a tool to pull the rug from under us all at this point".
Melanie Duddridge, of Capel Llanilltern, said: "The only way is up! There's nothing wrong with getting more support. It is a wonderful school.
"My daughter is in year two and since her first day of reception, she has been excited to go to school. She comes home eager to share new ideas and facts nearly every day. I also feel protective of the school and would be disappointed to see the results with a negative light shone."
Pentyrch resident Rhiannon John said: "I don't care about the Schools Categorisation Rating at all. Pentyrch is a lovely school. My children are very happy and are getting a good education. The school staff and pupils don't deserve to be judged by politics and headlines".
On the other hand, Chris James recognises there was a need for a change in management but is optimistic about the school's future, he said: "It's a great school, but there have been issues with the management of the school. Concerns were raised by parents but have been largely ignored. Hopefully with the new team in place it will improve, and it certainly appears to be heading in the right direction."
Beth Lyons, whose three children have been to Pentyrch Primary School, said: "My children are happy, settled, challenged and are growing in confidence under the care of their teachers. An almost complete staff change at the beginning of the academic year has proved very successful.The school is supportive and encouraging of parental involvement and understand this is key to successful learning."
Martin Hulland, headteacher of Cardiff West Community High School, also rated red, pointed out that Cardiff West Community High School only came into existence in September 2017, after the closure of the Michaelston Glyn Derw Federation.
"Our rating is a bit of an anomaly at the moment, based in large part on performance from a time which predates the creation of Cardiff West Community High School," he said.
"With the support of the local authority and the Central South Consortium, we are seeing a lot of improvement at the school. For example, In just 80 working days, we have seen exclusions halved and our attendance has increased by two per cent. First choice admissions are up by 25 per cent compared to applications for a place at the federation last year.
"Our improvement journey is well underway and Cardiff West Community High School has a very bright future, with our new £36m home opening this time next year.
"Given the progress made so far, I am confident that we will continue to see standards improving all the time, and for this to be reflected in future assessments of our school."
Coun Sarah Merry, Cardiff Council Cabinet Member for Education, Employment and Skills said: "We closed the two schools closed that were in difficulty and opened Cardiff West Community High School with a new headteacher."
A new school building is set to open in September 2018 on Penally Road in Caerau on the site of the old Glyn Derw High School which was burnt down in April 2016.
Coun Merry said: "It will be amazing. I'm not saying the new building alone will change the ethos of the school but a lot of the children come from communities where perhaps education is not particularly valued or they feel their education isn't seen as important.
"There isn't a magic wand that we can wave, it's about having the right leadership, the right governing body and making sure they've got the right support so the school is getting is what they need and isn't overbearing.
"When a school is in difficulty they have so many people going in wanting to talk about what's wrong that they almost don't have the space to get on with the job."