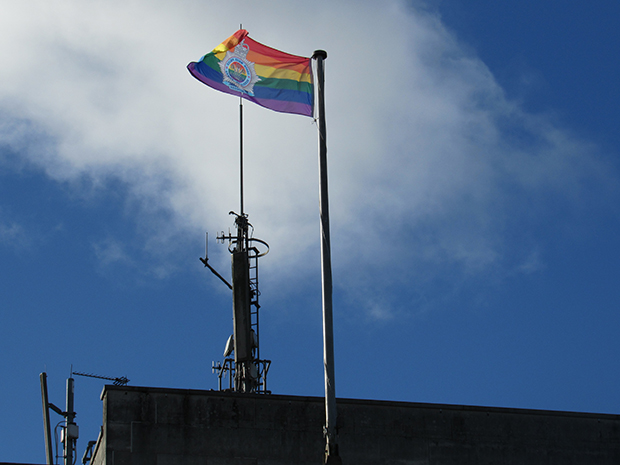 CARDIFF Council and South Wales Police are flying rainbow flags to mark LGBT History Month.
The event is held every February and seeks to raise awareness of LGBT issues, as well as celebrating the achievements of LGBT people and promoting inclusive events.
The council will also be illuminating the City Hall building in pink on Valentine's Day, as well as holding a number of events across Cardiff, including an exhibition at the Senedd on February 10, and an LGBT-friendly farmers market on Cardiff Metropolitan Universities Llandaff Campus on February 20.
Coun Chris Weaver, who is the Cabinet Member for Finance, Modernisation and Performance said:  "Cardiff is a very diverse city. We embrace and celebrate that diversity and are committed to building a fair society where all of our citizens are able to access the services that meet their needs, regardless of sexual orientation, gender, race or ability.
"The Council is committed to LGBT equality and is pleased to be supporting LGBT History month in such a visible way, by lighting up City Hall in pink and flying the rainbow flag there and at County Hall too."
Iestyn Wyn, Campaigns, Policy and Research manger for the LGBT charity Stonewall Cymru said: "Stonewall Cymru is delighted to see a wide range of activities planned across Cardiff and Wales for LGBT history month.
"Stonewall continues to encourage individuals, organisations and workplaces to take a visible stance in support of the LGBT community and doing this during LGBT history month is a perfect opportunity to recognize the community's history whilst also acknowledging that we can't be complacent when it comes to LGBT rights."
A spokesperson for South Wales Police said: "The flag is currently flying at Cardiff Central Police Station to mark LGBT History Month, and it will be flown for the remainder of February."
Steve Brown, from Cardiff, said: "Part of me says it's a good thing, we're a diverse society and these things are important to people in those communities.
"As I'm not gay I don't think I'll be doing anything to celebrate it, but I don't have any objection to other people getting involved. My only question would be as a council tax payer would be that I hope they aren't going over-the-top with spending – I hope they've set aside a budget for it in advance."
Jerry Lindsey, from Newport, said: "I think it's great – It's fine by me that Cardiff is honouring it in it's own way!
"Although I don't know anyone who's gay or in the LGBT community, I'm happy to see that they get the chance to celebrate who they are."