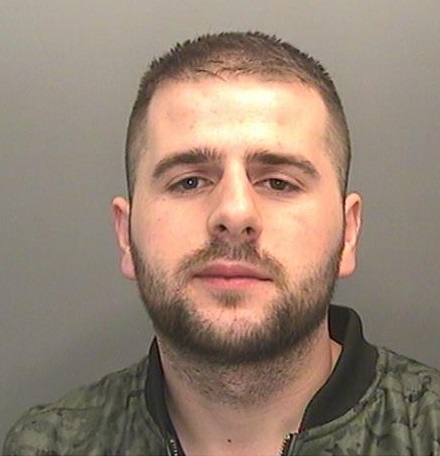 Reporting by Laura Clements and Aamir Mohammed
A DRUG dealer from London, who posted a picture on Facebook boasting about the cocaine he was bringing to Cardiff, has been jailed.
Ramazan Krasniqi took a picture of himself posing with the drugs in the passenger seat of a van as he crossed the Severn Bridge into Wales and posted it on the social networking site.
Today he was jailed for four years and eight months at Cardiff Crown Court for his part in a multi-million pound drug network.
Krasniqi, 24, from Hornesy, London was arrested when police stopped the van, which was bringing crack cocaine into Cardiff from London, on December 19.
Sentencing him today, Judge Jeremy Jenkins said he was satisfied that Krasniqi acted as a courier on only one occasion and had been drawn into a life of crime after entering the UK illegally in 2014.
Judge Jenkins referred to Krasniqi's Facebook post which he said indicated that Krasniqi was "not fully appreciative of the scale of the drug operation" and that he only played a "limited part".
"You were somebody who went along for the ride," he said.
"The Facebook post is an indication that you found the whole experience quite exciting. You were blinded in your judgement that this may be some sort of glamorous lifestyle."
Krasniqi's arrest was part of 'Operation Nightjar' which was an investigation in to a drugs network, led by the Regional Organised Crime Unit for southern Wales.
In sentencing, Judge Jenkins said that Krasniqi was not naïve and highlighted his significant role in the supply of Class A drugs, which is a Category 2 offence.
The sentence of four years and eight months took into account mitigating factors including the fact that Krasniqi had pleaded guilty to possession of Class A drugs with intent to supply at the earliest opportunity.