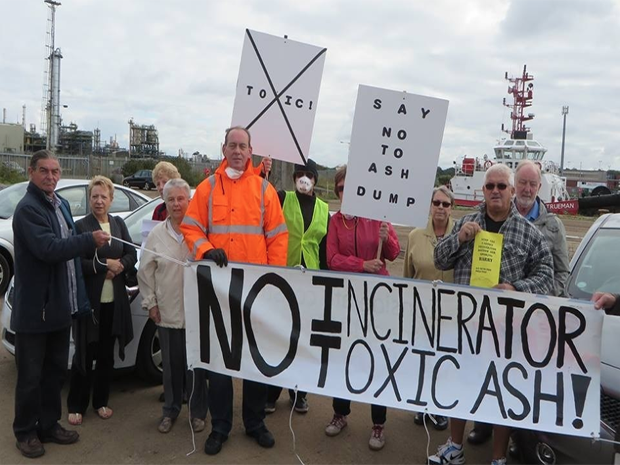 CAMPAIGNERS opposed to the Barry incinerator say Natural Resources Wales has treated their concerns less seriously than those of residents campaigning against logging by Roath Brook.
On Wednesday, NRW granted the Woodham Road incinerator an operational licence despite widespread local opposition.
But yesterday the Roath Brook Trees group tweeted that after a "constructive" meeting with NRW, tree felling would not take place next week – with a further meeting scheduled.
"I have nothing against the residents of Roath, who are doing their best to stop NRW from felling the old trees for flood prevention.
"I am behind them all the way, but how understanding are NRW being to the residents of the area?" said Cheryl Ockerby, a campaigner from Barry's Docks Incinerator Action Group (DIAG).
NRW has also held public meetings in Roath – one of which was attended by executive director, Gareth O'Shea.
Alexis Liosatos, chairman of DIAG, said it offered to arrange and meet the costs of hosting a public meeting, but that NRW declined to participate.
Instead, it was left to Vale AM Jane Hutt to organise a meeting between senior NRW representatives and anti-incinerator campaigners.
Hutt's May 2017 meeting resulted in NRW serving Biomass No 2, the owners of the plant, with a Schedule 5 notice.
This legal document obliged Biomass No 2 to respond to 70 separate points its February 2017 operational application did not address.
NRW's Schedule 5 flagged the environmental impact of emissions from the incinerator, and the flood risk to its Woodham Road site.
A Vale of Glamorgan Council report said the site, which is less than a mile from the Bristol Channel, could suffer tidal surge flooding up to a one metre depth – an estimate accepted by NRW.
The Roath Brook trees are three miles from the coast, and flooding is one of the reasons NRW cited behind its decision to delay felling.
However, no mention was made of flooding in the NRW analysis approving Biomass No 2's operational application.
"NRW have gone to far greater lengths to consider and protect the well-being of the Roath trees than they did for the residents of Barry. This is totally unacceptable," said a DIAG spokesperson.