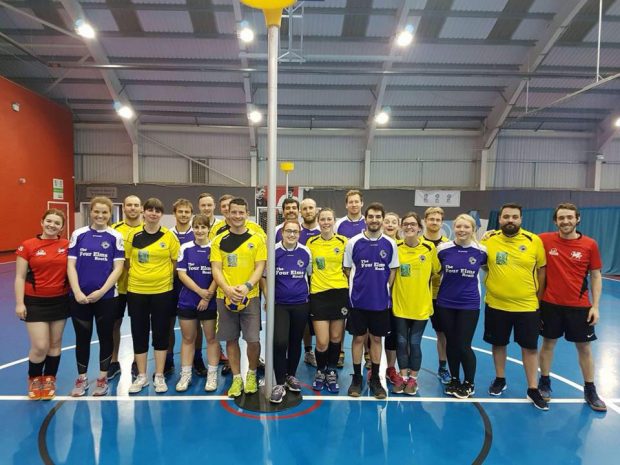 KORFBALL may be a genuinely mixed gender sport, but Cardiff's Raptors are struggling to attract women, says club chair Katie Crompton, 29.
Korfball (based on the Dutch word Korf, which means basket) takes inspiration from both basketball and netball. The aim of the game is to get the ball through a bottomless basket with is mounted on a 3.5m pole.
Teams are made of four men and four women and each player can only mark opponents of the same gender.
"We have enough men to fill three teams but barely have enough women for two. We've put ads out on social media and gumtree," said Ms Crompton, a school teacher from Penylan.
Rachel Long, 27, has been playing for eight years, starting in her university team, and now plays for the Raptors.
She said: "It goes in cycles each season. In my experience, there's always been a shortage of boys. Maybe we just need to capitalise on the end of the netball season."
The sport has been growing in recent years but Wales still lags behind other areas in attracting new players.
"I do wish it was more popular in Wales. It is in London, and the Netherlands," Ms Crompton said.
"Our club membership is £25 a month. There are also concessions, and we are looking at graduate prices to make it more accessible."
Raptors are split into two teams which are based on ability.
Korfball rules are built on teamwork. Players have no set positions, can only step twice with the ball and are banned from shooting if they have been marked for too long. To clear space, the ball must be passed to another team member.
Ms Crompton added: "It's about doing things for the team. You generally have to be good at everything."
"We would like to move up a level but you have to prove you're able to accommodate younger teams which is difficult. We're looking to implement a teenage programme and get Korfball into schools.
"The kit is expensive, that's the issue. A starter kit of two poles and five balls is around £800.
"Schools which offer Korfball normally do so because a teacher plays it and brings in the kit from home."
The Raptors are sponsored by Jon Bassett pub, The Four Elms, Roath.
Callum Bradshaw, 26, assistant manager of The Four Elms, said: "The Raptors are a local team and we are a local business, we like to help our locals. Korfball is also a gender neutral sport, which is good to see. Anyone can join."
The Welsh Korfball Association is developing a three year plan to implement the sport in schools.
What to get involved? Visit the Raptors' Facebook page.