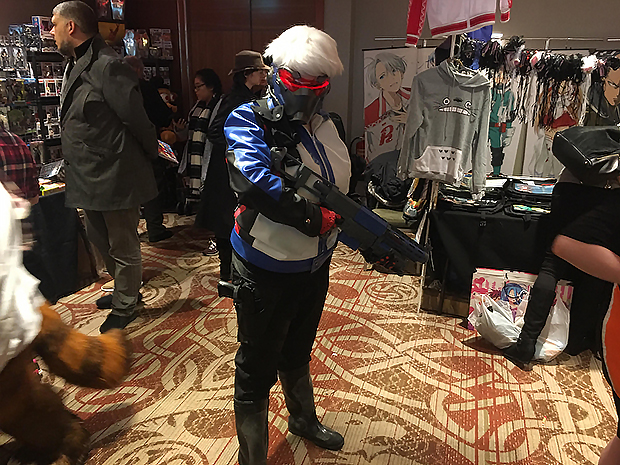 SCORES of costumed gaming and anime fans descended on Cardiff for their annual gathering.
Cardiff Anime & Gaming Convention, at the Mercure Holland Hotel, was organised by the community group Animeleague, and was filled with activities including cosplay contests, gaming tournaments and even a blind dating event for costumed participants.
We spoke to some of the attendee's who looked the part for the weekend event.
Harry Stoler, a student from the University of South Wales, was dressed as a Krieg Imperial Guardsman from the table-top franchise Warhammer 40,000. His complex costume, complete with speakers and pipes, took him around four weeks to finish.
Mr Stoler said: "The hardest part was getting everything together! The body armour and shoulder pads took me an age to finish up.
"I've had lots of fun today though. It's been much busier than the last convention I went to, and my costumes getting a great reception. I've been going to conventions since I was 16, I'm 21 now and I've seen more and more people going to conventions each year."
Peter Lewis and Tom Owen, both from Carmarthen, came dressed as Mute from Tom Clancy's Rainbow Six Siege and Nathan Drake from the Uncharted series respectively.
Mr Lewis' costume took him a week to make, as a keen airsofter he had the armour and outfit already available, he just needed to get the gas mask to complete the look.
Mr Owen's costume was a quick affair, he said: "This took me no time to finish, I just needed the harness!"
Mr Owen said: "It's been a while since we've been to a convention, when I heard this one was coming up we decided to get involved and get our costumes ready."
Jamie Taylor, from Penarth, was dressed as Goku from the anime Dragonball Z, he said his costume took him two months to prepare, as he did the painting and battle-scarring himself.
He said: "I've been really enjoying the convention so far. I've got some really good bargains and I'll be leaving with some great merch. The staff and people are great as well! A few people have took pictures with me, and I'm just really enjoying the atmosphere."
Adam and Bethan Russell, a couple from Caerphilly, were manning the Bishop Please stall, which specialises in selling cards, badges, pins and other memorabilia.
Ms Russell said: "Our motto is: 'gifts for your weird companions!', we have a distinct pop culture theme with our merch, lots of our stuff has gaming and movie references.
"It's been really busy today! We've chatted with loads of people, there's definitely been a great turnout. After this, we'll be going the same convention here in August – but we're trying to cover every convention in Wales!" she added.
Bishop Please have a website which can be access here.