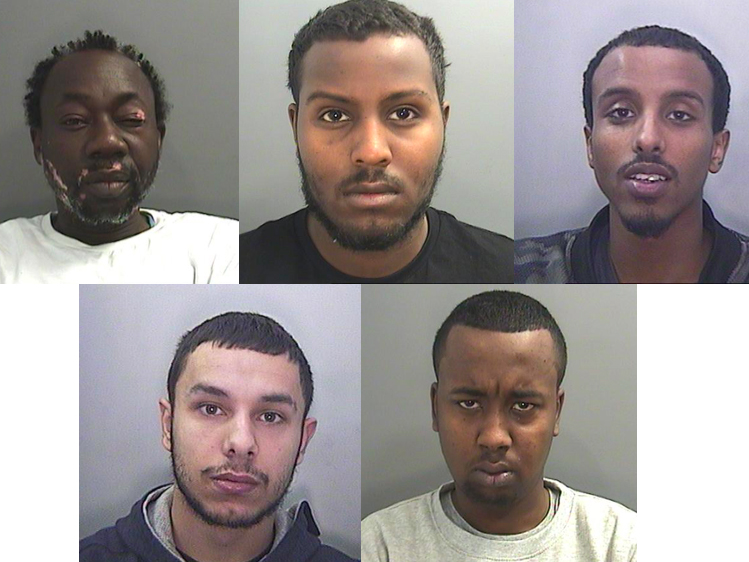 FIVE men involved in a drugs operation "designed to bring misery to the streets of Cardiff" were today jailed for a total of 17 years and six months.
Omar Diakite, Mahamood Hassan, Ayanle Ibrahim, Abdirahamen Hussein and Joseph Khan were part of a "sophisticated and professional outfit" bringing drugs from Sheffield to Cardiff, said recorder Mark Powell QC.
"I accept that none of you were the brains behind the operation, but you all played a full role," he said.
The court heard last week how Diakite, from Roath, allowed his home to be used as a base.
Police raided the property on Dylan Street last August 13 and found drugs potentially worth £1,360.
Ibrahim and Hassan were also carrying lock knives, and a third lock knife was found next to Khan.
All five men were arrested and later pleaded guilty to conspiring to supply heroin and cocaine.
Hassan, a 24-year-old radiography student at Cardiff University, became aggressive when detained, calling officers "p***ies and pigs" and shouting "I'll get my boys from Sheffield to shoot you c***s."
The men were sentenced at Cardiff Crown Court on Tuesday, February 20.
Paul Crompin defended Khan, Ibrahim and Hussein, all from Sheffield.
Khan's role was to take calls and send drugs, he told the court.
The 19-year-old, of Bellhouse Road, was living with his mother and sister after leaving school and failing to find work.
"The young man in this dock was not the brains behind this operation, and he was exploited," said Mr Crompin.
He was in debt and was pressured into taking part, he said – adding that Khan's family have since had to move address due to continued threats.
Khan was handed a three-year immediate sentence.
Ibrahim, of Castle Walk, wants to "go back to his family and lead a productive life" after his sentence, Mr Crompin said.
"He appreciates that he was very stupid and should have made better decisions."
The 24-year-old was given four years' imprisonment.
Hussein, of Hanover Square, was the "courier," paid to drive the men between Sheffield and Cardiff before returning to Sheffield to collect more drugs.
He previously had a "very good character" and hopes to continue training in construction when released, Mr Crompin said.
He was jailed for three years and seven months.
Hassan, of Maria Street, Butetown, was handed three years and nine months, while Diakin, 47, received three years and two months.
Recorder Powell said that had the men not pleaded guilty, the minimum term would have been four years and six months.
"All of you were part of a significant and professional organisation which was designed to bring misery to the streets of Cardiff," he said.