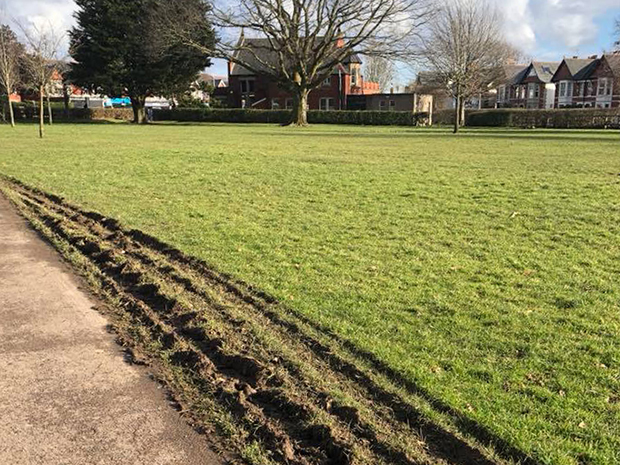 WHITCHURCH residents are angry about council bin trucks churning up grass at one of their favourite parks.
Council trucks are too wide for the paths in Whitchurch Library Park leaving tracks on the grass.
The park behind Whitchurch Library is a favourite with dog walkers and families.
"I've seen the council trucks driving right up to the bins in the park in order to empty them, but in the meantime their tracks leave the grass in an awful state," said Gwenllian Hill.
The mother-of-three lives on Velindre Road and walks her Rough Collie, Freya, in nearby Whitchurch Library Park every day.
"It's a beautiful place," said Mrs Hill.
The public gardens were created along with Whitchurch Library in 1904 after Whitchurch Parish Council bought the land.
Mrs Hill also worries that not enough money is being spent on the park's upkeep.
"I do feel that it's terribly neglected by Cardiff Council. I understand that budgets are tight, but I also feel that this area is very low on their priorities," said Mrs Hill.
Council vehicles have also caused problems on Whitchurch Common.
Sian Underwood is one of a number of residents who are annoyed by the actions of collection vehicles on the park.
"It is a disgrace on such a beautiful piece of green," said Ms Underwood, who lives on nearby Heol Gabriel.
Ms Underwood thinks that the truck tracks have caused "considerable damage" to grass on the Common.
Mike Phillips, Councillor for Whitchurch and Tongwynlais, confirmed that the Neighbourhood Services department had responded promptly to councillors' enquiries about the issue.
"The crews are advised to check the surface can be driven on without damaging the grass and earth, as has occurred here. The damage will be rectified and crews reminded," said Coun Phillips.
Coun Phillips could also confirm that the department "are in the process of procuring a narrow wheel base vehicle to help avoid this occurring in future."