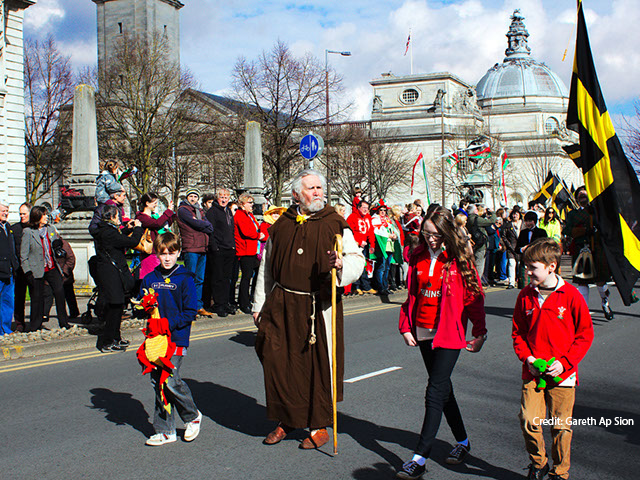 NOT sure how to celebrate St David's Day? Here are some of Cardiff's most exciting events taking place on Thursday.
National St David's Day Parade
If you can battle through the cold weather, the St David's Day Parade is a must-see. Now in its 18th year the parade will depart from Cardiff City Hall at 12.30pm as it makes its way to the Hayes for 1.15pm. You can view the route here.
Event organiser David Petersen said: "The most we have had turn up to be in the parade and to watch it go past has been in the region of 15,000. That was when March 1 coincides with a Saturday or a Sunday."
However, with the cold weather this year there will be around 500 people in the parade, short of the 1,500 people that the parade gets on average each year.
Mr Petersen added: "The Parade is an opportunity for everyone to celebrate our Patron Saint, regardless of religion/faith or none, regardless of where you are from, regardless of what colour or creed you are, just as long as you wish to celebrate Wales and our Patron Saint.
"It is an opportunity to celebrate our culture and that may be wearing Welsh traditional costume, waving Welsh flags, singing Welsh songs and playing Welsh music."
Carnival at Chapter
If you fancy trying out beers from North Wales, Chapter is hosting a week-long carnival starting today.
30 different beers from North Wales will feature from breweries such as Cwrw Cader of Dolgellau and Wrexham's Axiom Brewery.
The Caffi bar is doing cawl specials (both meat and vegetarian) on Thursday to celebrate the day.
The week will finish with Canton's first beer festival on Saturday. Four establishments are pulling together to celebrate what Wales has to offer.
The Canton Beer Festival is a one-day event co-hosted with St. Canna's Ale House, The Lansdowne Pub and Pipes Brewery.
Each establishment will host activities with prizes to be won throughout the day.
Concerts in the City
If you find yourself passing through Cardiff Central Station on Thursday morning you may hear the beautiful sound of the Cwmbach Male Choir.
The Welsh choir will be singing in the station's main foyer from 11am for around 75 minutes.
If you fancy more music in the evening then why not head down to St David's Hall at 7.30pm on Thursday for an evening of music provided by the BBC's National Orchestra and Chorus of Wales.
Offering a mix of traditional songs and choral works there will also be a chance for the audience to sing along. Tickets can be purchased here.
Alternatively, the Royal Welsh College Brass Band are celebrating St David's Day at the Royal Welsh College of Music and Drama.
The concert celebrates the best of Welsh musical talent including Men of Harlech, Sosban Fach and Hen Wlad Fy Nhadau.
The concert starts at 7.30pm and tickets can be purchased here.