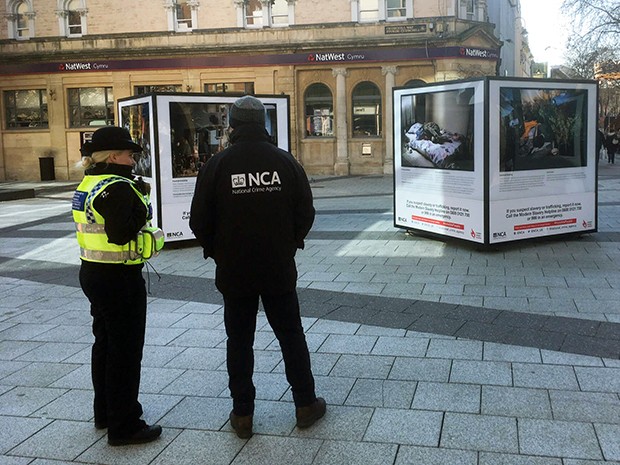 AN exhibition raising awareness of the harsh reality of modern slavery in the UK has come to Cardiff city centre
The Invisible People exhibition, created by the National Crime Agency, features impactful photos by award-winning photographer Rory Carnegie, which re-created the conditions slaves have lived and worked in.
The photographs were displayed on large stands between Queen Street and Churchill Way.
An NCA investigator staffing the exhibition said: "We've had a good turnout and it's got a lot of attention. That's important, because slavery is a topic that many of the public don't know the full extent of.
"For instance, not all slaves are foreign, many of the public assume all slaves are Eastern European, and this isn't the case. We were approached yesterday by someone who wasn't either of these, and she was a victim of slavery who'd been exploited. We were able to help her and put her in touch with the right people to get her to a safe place."
Members of the public stopped by to take in the images and descriptions during its two-day stay in Cardiff.
Judith Baker, from Llandaff, said: "It really made me stop, and think. I didn't really understand the extent of it all, but this really brought it home to me.
"It's in your face, just the photos of the young men and women working in these conditions. I definitely think things like this are important, it certainly struck a chord with me, I really think it will raise awareness in Cardiff with all the people passing through."
Heather Perry, from Chippenham, said: "I didn't know a huge amount about slavery, but this taught me a lot."
Tarig Sanousi, of BAWSO, a Cardiff-based charity which helps black and minority ethnic victims of exploitation and human trafficking, was also on-hand.
"There've been a lot of people showing interest, lots of people didn't know about it, in fact some people didn't even think it existed in the UK, so it was eye-opening for so many people seeing how it effects everyone, you'd be surprised how big of an issue it is just in Cardiff alone," he said.