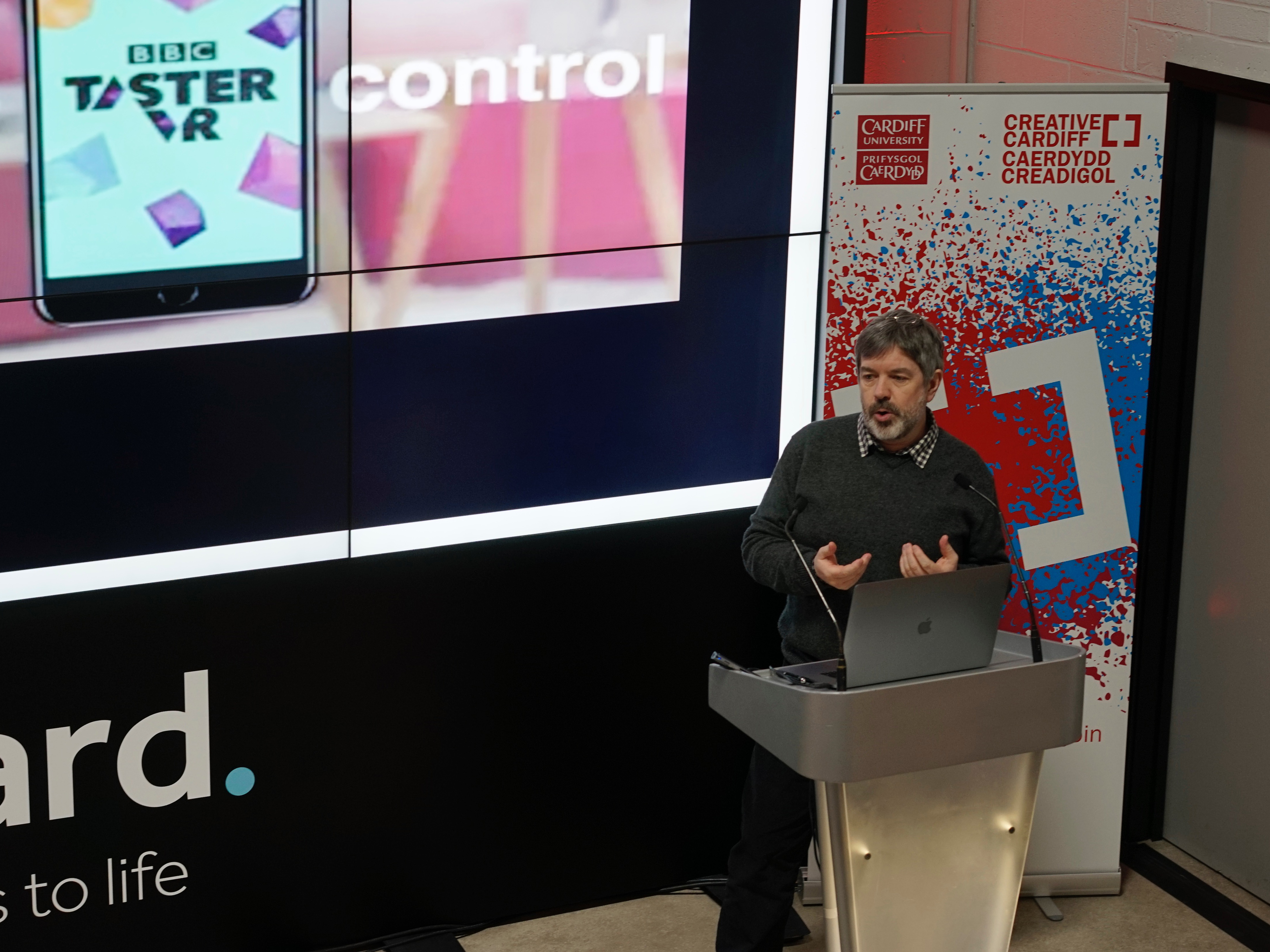 SPEAKING at Cardiff's first virtual reality meet-up, the head of innovation at BBC Wales asked creatives to group together in a bid for the corporation's attention.
Robin Moore said he wants to see big pitches coming from the city through creative collaboration, as opportunities are currently being seized by other areas.
VRSW, the city's first virtual reality meet-up, saw creatives come together at Orchard Media, on February 28, to hear Mr Moore's keynote speech and discuss issues currently facing the industry, such as 360 video and VR storytelling.
Mr Moore said: "I have an everlasting problem in Cardiff where we [the BBC] can commission something but are not allowed to go with someone just because they are geographically close to us."
He explained that even though he "thinks the indie down the road" would do a project well, BBC Wales must let the whole of the UK pitch for an idea because of funding rules.
"We find that companies cluster together in other areas and are better because they're able to bring bigger pitches and freelancers," he added.
"What I want to see is those big pitches coming to us from here in Cardiff. That kind of networking can happen at events like this. You'll meet people who can do the stuff you can't and give each other the credibility to go between specialities."
VRSW is set to run quarterly, however organisers emphasised that the meetup could run as often as the cluster wanted once it has found its feet.
Glenn Hapgood, head of VR, AR and 360 at Orchard, said cities outside of London struggle to get recognition for their work even though it they are "doing just as good work, if not better".
"A lot of companies are looking at London and almost discarding companies in other cities. People are ignoring areas like Cardiff, Bristol and Swansea. I do believe that together, we are much stronger," he said.
Orchard are currently collaborating with BBC Wales on a project both had previously been working on alone.
"Now we are working on it together to bring something better than what we have done on our own," he added.
Marc Matthews, 31, a sound engineer who attended the event, said: "It was exciting to see a large collective of VR professionals that are passionate about fostering a network and community.
"It was also extremely encouraging to hear Robin Moore's positive comments toward the Cardiff creative sector and its growth. I will definitely be going to future meet-ups."
Sara Pepper, director of Creative Economy at Cardiff University and Creative Cardiff, who helped organise the event, said: "The developing immersive technology scene in Cardiff has been on our radar for some time.
"We are delighted that the cluster came together for the inaugural VRSW meet up to connect, learn, share and look forward to developing this quarterly event, with and for, the community.
To find out more follow @CreativeCardiff on Twitter or email creativecardiff@cardiff.ac.uk