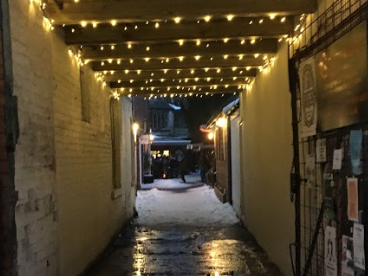 NEIGHBOURS of a Canton pub turned up to help prepare for the beer festival on Saturday after the snow put it in doubt.
Three of the four host venues were shut on Friday due to the adverse weather conditions. Chapter, Pipes Brewery and The Lansdowne all had to wait until Saturday morning to confirm the festival was going ahead.
Resh, a member of staff at The Lansdowne, said: "Neighbours in the surrounding flats came in to help us in the morning by
wiping down tables among other things.
"We're lucky that they volunteered to help us get the place ready as our janitor lives in the valleys and couldn't make it in."
Despite the early worries local residents turned up in numbers with customers queuing out of the door in some locations.
St Canna's Ale House was so popular that customers were standing in the toilets because the bar area and side room were so packed.
The ale house reported the next morning that due to the snow and the number of people at the beer festival they would not open on the Sunday as they had run out of beer.
St Canna's was not the only place to run low on stock. The Lansdowne reported that they'd run out of Bluestone Ales' Tiger Eye by 6pm.
Two regulars at the Lansdowne, Alice, 34, and Rob, 37, said: "We're just glad the snow hasn't been a barrier.
"We're both ale drinkers and so we're in our element. We live 400m down the road (from The Lansdowne) so although we came especially for the beer festival we come here anyway.
"We walked by Pipes on Friday and it was covered in snow so we were worried that it would be cancelled."
Pipes were selling a selection of their own beers including a beer festival special. Customers were treated to a fire pit to keep them warm throughout the afternoon.