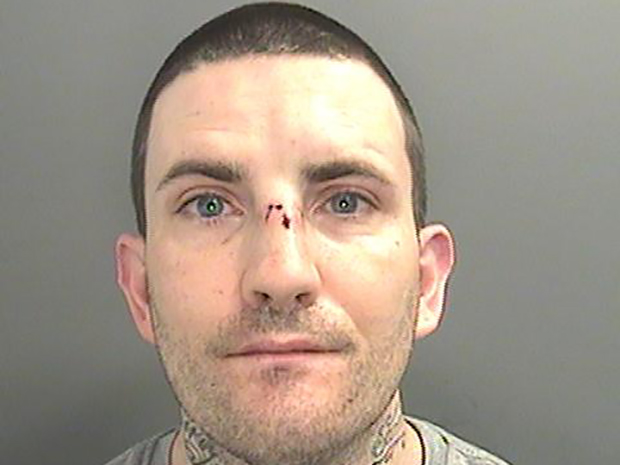 A MAN who threatened to kill his ex-partner and racially abused a police officer was jailed at Cardiff Crown Court today.  
Thomas Anthony Coleman, 34, was sentenced to 21 months for five offences including racially aggravated harassment, making a threat to kill, possessing a kitchen knife, affray and causing criminal damage.
The incident took place on February 18, beginning in a flat in Sycamore House high rise on the Hollybush Estate. After getting into an argument with his then partner, Coleman picked up a potato peeler and began stabbing himself in the stomach.
Coleman also picked up a kitchen knife saying he was going to "commit suicide by police".
After leaving the flat, he smashed the window of another apartment and damaged a communal door at the bottom of the flats.
Outside he confronted a resident working on his vehicle, shouting "Polish c**t", and threatening and chasing him, the court heard.
The resident defended himself by punching Coleman to the floor before seeking refuge inside.
An unnamed witness saw Coleman bleeding from the stomach, chasing the man around the block of flats with a knife in his left hand.
Byron Broadstock, prosecuting, said the facts of the case had to be pieced together as many witnesses had not been prepared to give statements.
Coleman was sedated after police officers arrived and taken to University Hospital of Wales for treatment.
It was while at hospital that Coleman made threats to kill his ex-partner. He continued "acting aggressively" calling the officer who was overseeing him a "P**i boy."
Coleman also told the officer "I do not give a f**k you terrorist c**t."
He pleaded guilty at Cardiff Magistrates Court to all five offences the day after the incident.
Coleman has convictions dating back to 2005, including spitting at a police constable, battery, affray and causing criminal damage.
The court heard Coleman suffered from mental health conditions and had drunk a bottle of vodka before the incident "to make the noise in his head stop".
Coleman was also coming down from a codeine addiction at the time.
Karl Williams, defending, said his client had no memory of leaving the property or causing the damage, but accepted the "facts in entirety".
Mr Williams urged the court to give him some credit for his guilty plea and the fact there was "no CCTV evidence".
"The only person who was injured was himself," said Mr Williams.
Sentencing Coleman, Judge Michael Fitton QC said that throughout the incident he had "continued in the same vile manner" and there was no reason for the sequence of events "apart from your own aggression and the consumption of too much alcohol".
Judge Fitton found there was no alternative but an immediate prison sentence.