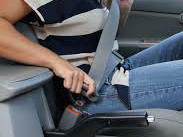 DRIVERS and passengers could be fined £500 for not wearing seatbelts in a crackdown on people who refuse to belt up on Welsh roads.
South Wales Police are working with forces around the country to deliver the All Wales Seatbelt Campaign.
The initiative reminds motorists of the law and that they are risking lives by not wearing seatbelts or checking that passengers are.
By law, if drivers or passengers are caught without a seatbelt they could face a fine of £100 or up to £500 if taken to court. Drivers are also responsible for ensuring children up to 14  wear seatbelts.
The latest data from StatsWales shows 66 people in Cardiff were killed or seriously injured in road accidents in 2017, the second highest death toll in Wales that year.
Think!, the UK's road safety directive, say drivers are twice as likely to die by not wearing a seatbelt.
Assistant Chief Constable Jonathan Edwards, strategic lead for roads policing in Wales, said: "Wearing a seatbelt is such a simple, easy thing to do. As police officers, we see the consequences of driving without a seatbelt all too often at crash scenes."
There were 370 road accidents in Cardiff last year, compared to 66 in Merythr Tydfill. The Welsh capital has the most road accidents per year since records began in 1999.
"While you will face a fine if you are caught without your seatbelt on, the key message we are trying to get across is that wearing a seatbelt really could mean the difference between life and death," Mr Edwards added.
"That applies just as much to passengers as it does to drivers and it also endangers other people within the car."
Around 40 front seat passengers die each year as a result of being hit by a back seat passenger not wearing their seatbelt, claims Wasted Lives, a young driver education initiative.
Susan Storch, chair of Road Safety Wales, said: "We want to encourage people to recognise the dangers of not wearing a seatbelt and we know that there are still people across Wales who are taking that risk.
"Seatbelts are designed to work as an important part of life saving and injury prevention measures within the vehicle. Safety systems, such as airbags and head restraints, will not be as effective in reducing the risk of being hurt or even killed if an occupant is not wearing a seat belt."