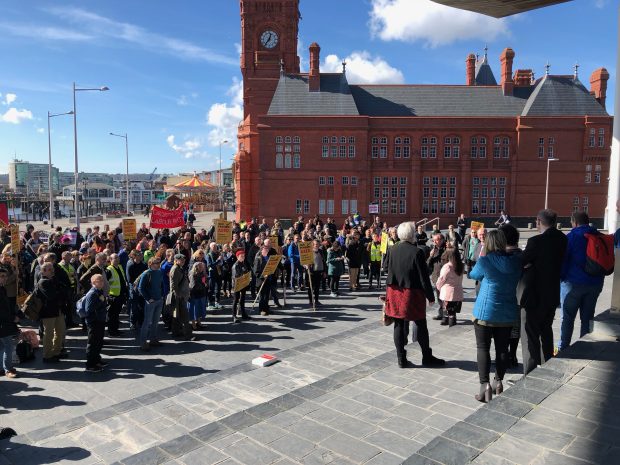 STRIKING university lecturers and students marched on the Senedd today in protest against changes to pension agreements.
The Cardiff branch of the University College Union (UCU) held a demonstration outside the Senedd in Cardiff Bay today at noon.
It came just hours before it was announced that union members had rejected a three-year interim deal struck between their leaders and employers last night.
The deal would have halted significant changes to pension contributions and payouts for three years, but requires staff to make higher salary contributions to their pensions from April.
"You're being cheated", said Cardiff University physics Professor Patrick Sutton.
"Our union (UCU) are not trying to screw us over, but they're doing a good job of it. The proposal says your union is going to be working towards a defined pension contribution scheme over the next three years.
"If we agree to this proposal, your pensions will be gone, in three years you will be left with nothing. So we either stand or we fall, and we do it here, today, now."
Dr Steve Davies of Cardiff's School of Social Sciences said: "The university's body UUK is completely misguided. They misjudged the mood of the staff.
"People who are earning a decent amount now could be ending their working lives on a pension of £9,000, below the minimum wage."
Speaking to the demonstrators, Dr Davies announced that 20 university unions had today rejected the new proposals, including Bath, Bristol, UCL, and Queen Mary London.
Cardiff North AM Julie Morgan and Cardiff Central AM Jenny Rathbone addressed the crowd of staff and students, who were joined by Fire and Rescue Service and Labour party representatives.
They were also joined by the assembly members for Caerphilly, Hefin David, Cynon Valley's Vikki Howells, Aberavon's David Rees, and Ceredigion's Elin Jones.
Julie Morgan AM said: "We can't underestimate what the university sector does for our city here in Cardiff.
"This is an opportunity for us to pay tribute to the work you have all done and the wealth you bring to the city, and above all what you do for the young people.
"This is at a crucial stage now, and you have made a very bold stand. All I want to say now is that we're in solidarity with you, best of luck, and I'm sure you will achieve a victory."
Jenny Rathbone AM echoed Morgan's comments, saying: "We need to maximise the student support now for the difficult times that lie ahead.
"Universities have made a fundamental mistake, with a dismissive attitude towards their staff, believing that anybody will do to teach the millions more students they want to pack into lecture theatres."
Firefighter Cerith Griffiths of South Wales Fire and Rescue Service said: "Today the fire brigade union stands by you as you stood by us when we were striking for our pensions, just over three years ago."
Cardiff University postgraduates Angela Stigliano, 26, and Rachel Phillips, 25, were at the Senedd supporting their Digital Media lecturers.
Ms Stigliano expressed support for her striking lecturers, saying the "marketisation of education" had led to these protests as well as previous tuition fee protests across the country.
During the 2011 tuition fee protests, some Cardiff university lecturers were known to have protested alongside their students.
Ms Stigliano said: "I think the strike is a part of my education as an adult about real challenges in life outside of just a university course.
"I'm really surprised at how good the lecturers have been at reaching out to us even when they are on a strike day.
"I haven't had a lecture in about three weeks, so I have missed about 13 lectures in total. We have been trying to organise amongst ourselves to cover the work we have missed, but I appreciate the reasons for the lecturers striking.
"Luckily our postgraduate course is more self-directed learning, it is the undergraduates who might be impacted by the strikes."
Cardiff UCU have voted in favour of a possible 14-day extension to the strikes. The starting date for a strike extension has not yet been agreed.