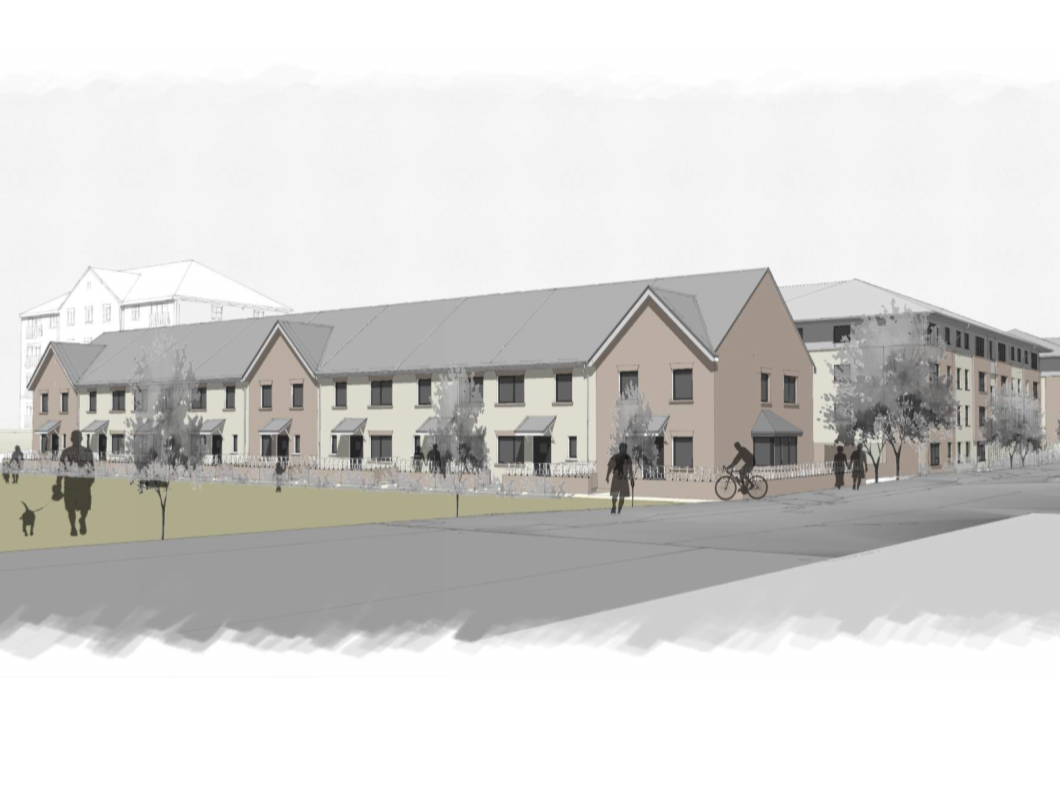 ALTHOUGH residents collected more than 50 signatures for a petition opposing development in Ty Glas, they failed to convince planners to stop the development of 121 homes.
Malvern Drive Ltd already had outline planning permission for the former Travis Perkins site off Malvern Drive and yesterday were granted permission to build two blocks of flats and a row of terraced houses.
But the plans show there will only be car parking for 42 cars, meaning that 82 households won't have any parking at all.
David Newland, a teacher who organised the petition against the Malvern Drive proposals, lives in Ty Glass and spoke on behalf of the community at yesterday's planning committee.
He described the regular chaos caused by double parking and how cars parked on both sides of Ashbourne Way, which runs along the front of the Travis Perkins site, cause delays of up to 15-20 minutes at peak times.
The new development would only make this worse, especially given another development of 70 homes with only 46 parking spaces has also just been granted nextdoor at Chiltern Close, said Mr Newland.
"A total of at least 191 new households will need somewhere to park – yet a total of just 88 spaces is proposed," he said.
"That's like cramming every car in North Road car park into Gray Street in Riverside or Llandaff High Street and leaving the rest to fend for themselves. It wouldn't be acceptable there so why is it in Llanishen."
The latest plans submitted by Malvern Drive Ltd, show that the site will be developed by LINC Housing Association and will be split between affordable housing and housing for over-55s.
According to Louise Atwood, development director for LINC, the proposed development  allows for 10 per cent more parking spaces than they would usually for affordable housing. She said that residents living in 55+ homes typically use buggies rather than cars.
One Ty Glas resident who asked not to be named said: "It feels like there's maybe a bit of an ageist assumption that as the accommodation is supposedly mainly for over 55s that there will be fewer cars and therefore a reduced need for parking.
"Plenty of people over 55 still own a car and drive and given the current retirement age the majority are likely to still be in work and therefore possibly rely on a car to get them there."
Ms Atwood also said that they could allow for an extra seven spaces, but the planners had asked for trees to be planted in between the parking spaces.
Immediately before hearing the application, the committee granted planning permission to a development of affordable housing at the Phoenix Works site off Caerphilly Road.
This is less than a mile away from Malvern Drive, but will provide 73 car parking spaces for only 53 homes. 
Despite noting that car-parking at the Travis Perkins site is 'on the low side', planners were happy that the plans for the Travis Perkins site were 'policy compliant'.
Current policy requires that for a development of 121 houses, 33-161 spaces would be required and 0-30 spaces for visitors. They thought the recent addition of double-yellow lines along Ashbourne Way would help to reduce the current parking problems.
Responding immediately after the decision, Ty Glas resident Ian Jones, who signed the petition, said: "David Newland did a fantastic job summarising the general concerns on behalf of the local community.
"The proposal from LINC was well-constructed to meet Cardiff Council's targets and agenda, it is therefore no surprise that it was passed. The issues however do not go away.
"The parking will continue to be an issue in the area with inadequate provision for the new residents. Regardless of what the landlord thinks is an acceptable level of parking provision, this development will fall short of the required number."