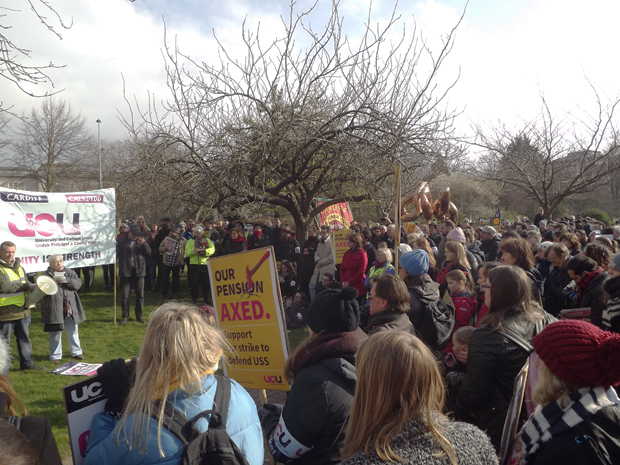 STUDENTS have quizzed Cardiff University staff and members of the lecturers' union, the UCU, about the industrial action that could affect their exams.
Many students at the Q and A at the Students' Union yesterday were concerned they were not getting value for money. Some spend up to £33,540 a year to study at Cardiff University.
Lecturers have taken 14 days of action so far. More strikes are planned and are likely to take place during the exam period.
"We are expecting another 14 days. It has been suggested to be during the assessment period," said Paul Brennan, the School of Medicine representative for Cardiff UCU.
When asked whether students could get refunds, Deputy Vice-Chancellor Karen Holford said: "It would be impossible to calculate a correct refund for students."
Any wages withheld because a staff member is taking strike action will be given to each school proportionally so department heads can spend it in the way they feel fit, she said.
Plaid Cymru leader Leanne Wood has previously said she would be in favour of students being refunded.
Dr Brennan said he would consider standing with students to demand a refund.
"I do not see why not. I am very happy to discuss that with the UCU," he said.
Professor Holford told the students: "You still have access to university services, to libraries, to the mental health services, and to university resources.
"I do not think you can do everything by self-study. But one of the purposes of university is to become an independent learner."
Many students had assessments due during the strike period, and others will be assessed on material that should have been covered during the strike action.
Professor Holford told them: "As far as we are concerned every single student has extenuating circumstances this year, whether their lecturers are on strike or not."
Amanda Coffey, Pro Vice-Chancellor for Student Experience and Academic Standards, added: "All students can apply for extenuating circumstances. We are working towards making sure that applying for extenuating circumstances is easy and does not need a lot of paperwork."
Several students expressed their solidarity with the lecturers on strike.
Dr Brennan said: "Having been on the picket line every day for the last 14 days I want to thank everyone who has interacted with us and supported us."