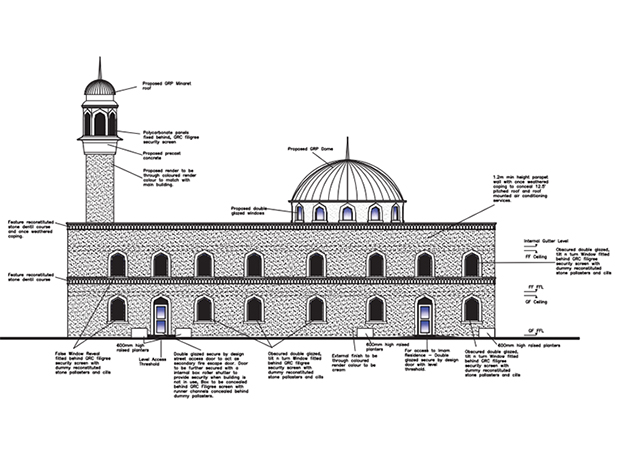 PLANS to extend a Cardiff mosque have been approved at the third time of asking, despite concerns from residents.
The Ahmadiyya Muslim Association applied for planning permission to expand the mosque on Sanatorium Road, Canton, in February 2016 and March 2017 but the planning committee refused because of transport concerns.
Proposed changes to the building include turning the former office in to a two-storey mosque with a minaret, dome, Imam's residence and a community hall.
When permission was denied in March 2017, the AMA appealed the planning committee's decision, but this appeal was postponed until after the result of this latest application.
Dr Ata Ur Rehman Maaz, president of AMA Cardiff, said: "It is of course a relief for us and we can now move forward with the building work.
"Mosque gatherings are central to the Muslim faith. This development will allow the local Ahmadi Muslims to get together for their congregational prayers and other community related activities."
The Ahmadiyya Muslim Association has about 160 members, although it is rare that all members attend at the same time.
The planning committee concluded that the development would not cause traffic or parking problems.
Members decided the mosque would not detract from the character and appearance of the area,  another concern of residents.
The approval is subject to certain conditions, such as promoting sustainable transport by providing a sheltered area to secure bikes.
Also, the mosque shall not be used between the hours of 11pm and 4am and to reduce disturbance to neighbours no call to prayer shall be used.
Dr Maaz said: "Local residents and neighbours should have no fear of traffic and noise because of the mosque's presence in their area."
The council received a petition with over 500 signatures objecting to the development, and a letter of concern was sent to the committee by Kevin Brennan MP and Mark Drakeford AM.
Another concern was that there was no need to have such a large facility for a relatively small community. Some residents also objected to the addition of a minaret and a dome, saying this was not in keeping with the aesthetic of the area.