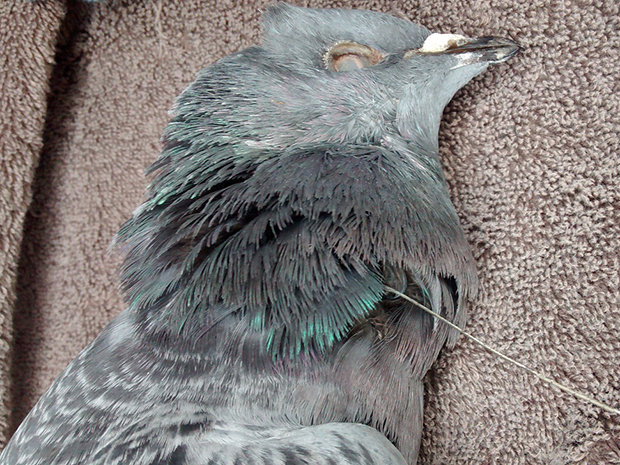 THE dangers external wire and netting pose to wildlife has been highlighted by RSPCA Wales, after a pigeon and gull died in the centre of Cardiff.
The charity was alerted after the birds were found hanging from wire on a building on Queen Street.
The RSPCA say the incident is a timely reminder about maintaining and monitoring external wire and netting to protect birds and other animals from getting hurt.
Stephanie Davidson, RSPCA animal collection officer, said: "Sadly, two birds have died after getting badly caught up in external wire on a Queen Street building in the heart of Cardiff.
"This incident is a reminder as to the potentially fatal consequences such structures can pose to the nation's wildlife.
"We continue to highlight the importance of the monitoring of external wire and netting, which often pose a deadly obstacle to wild birds, like this poor pigeon and gull."
RSPCA animal rescue officers arrived at the building, along with South Wales Fire and Rescue Service, and they reached the trapped birds via cherry picker to set them free.
Sadly, the pigeon was found dead and the gull, who had a badly damaged wing, had to be killed on welfare grounds to prevent further suffering.
Ms Davidson said: "If you know of a building where birds are getting caught in netting or wiring, report it to us as part of our 'Wild Birds and Netting' project.
"RSPCA Cymru is very grateful to South Wales Fire and Rescue Service for their support in trying to save the birds – and thanks to their support, we were at least able to spare the poor trapped gull further suffering."