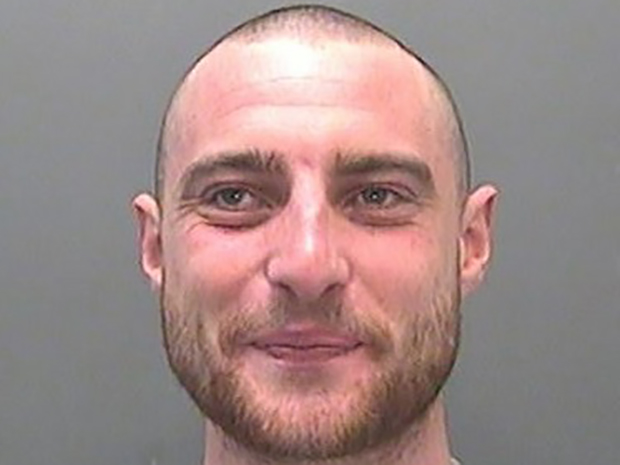 A MAN has been sentenced to 18 months in prison after a "cowardly and sustained attack" on his ex-partner and two other women at a New Years Eve party.
Bradie Shkensberg, 26, turned up at the party after an abusive phone call with his ex-partner Shanise Ludvigsen, who was already there with their child.
When he arrived, he dragged her outside after she came to the door and they began to fight. He proceeded to punch and headbutt her before kicking her vagina several times.
She sustained bruising to her body and lost a tooth as well as suffering vaginal bleeding that could not be checked by a doctor because swelling to the area was so severe.
Two women, Michelle Craig and Pauline David ran to Ms Ludvigsen's aid and were also assaulted.
Ms Craig sustained bruising to her face and a cut to her ear, and Ms David suffered grazes and a cut to her rib cage after she was thrown against a fence.
The assault happened in front of children.
Shkensberg, from Barry, who appeared via video link, was sentenced at Cardiff Crown Court, after pleading guilty to two counts of ABH, for which he received 18 months and 36 weeks respectively and one count of common assault, for which he received two months.
The sentences will run concurrently.
Following his arrest, Shkensberg was questioned and said the women attacked him at the party, an act that Judge Jeremy Jenkins QC described "as pitiful of an excuse as this was a cowardly attack".
Judge Jenkins called the attack "sustained and calculated" during sentencing.
Shkensberg has a history of violent offences and prosecutor, Gareth James, reminded Judge Jenkins of an incident in 2016 where Shkensberg walked along a street smashing cars with a golf club.  
When Police arrived he took out a knife and had to be tasered before he was arrested. He has also been in prison as recently as February 2017, when he was serving a sentence for affray and other offences.