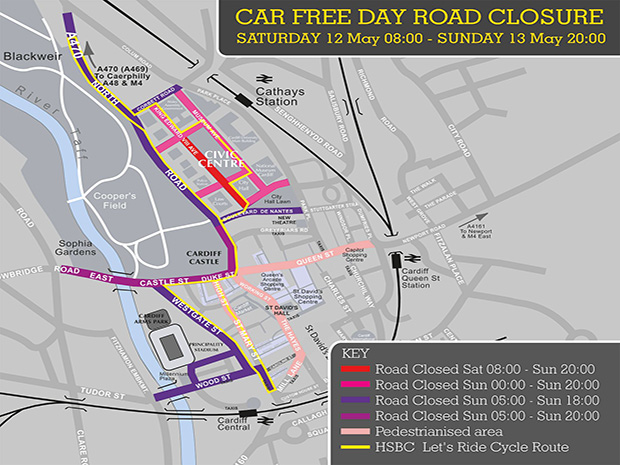 Reporting by Aamir Mohammed and Rory Claydon
CARDIFF will celebrate its biggest ever car-free day when 14 city centre roads will be shut off to traffic.
The event, on Sunday, May 13, will see more roads closed than for a sporting event at the Principality Stadium.
HSBC's City Ride Scheme will also take place so that people can do a 5km bike ride on closed roads such as Castle Street and Westgate Street.
"We are still putting the finishing touches to what I believe will be a fantastic family day out, but right now we just want people to get the date in their diaries," said cabinet member Caro Wild.
"There will be lots of activities and performances to enjoy and we are working with public transport providers so that people can get in and out of the city without using cars.
"We are encouraging public transport providers to provide additional Sunday services and discounted tickets so we can make sure people have alternative ways to get into the centre."
A number of family and on-street entertainment activities are planned, including BMX rides and live music.
A spokesman for Sustrans Cymru said: "We are working with the council on Cardiff car-free day and we're delighted that this year's event promises to be bigger and better.
"It's a chance to reclaim the streets for people and experiment with what the city could feel like if we expanded pedestrian schemes and built more green spaces."
Car-free days aim to reduce pollution and encourage people to use sustainable transport.
Llio Angharad, 30, from Cardiff Bay said: "Most short trips in the city, you can reach quicker using a bicycle rather than a car.
"This day is good for the planet, good for the gut and it's lovely to see more people walking, socialising and getting out doors.
"We should all walk and cycle in this beautiful city."
Chris Roberts, 60, from Llanishen said: "It's an opportunity to see what the city is like when people have priority over cars.
"It's not just about the environment, even more important is the impact on health. Air quality in parts of Cardiff is below safe levels.
"We also have serious problems with problems with people using cars for short journeys which is resulting in significant increases in diseases such as diabetes."
Some car drivers weren't happy and said it would cause chaos.
Jack Cosh, 38, from Roath said: "I'm a delivery driver and the day will result in traffic everywhere. I like the idea but it shouldn't be on a Sunday."
Cardiff Bus had not responded to a request for a comment at time of publication.