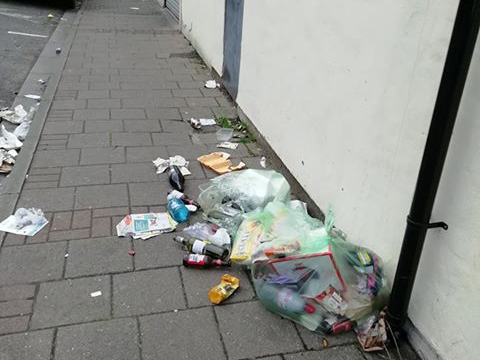 AN app set up to report fly-tipping in Cardiff has been used 553 times since June, according to the council.
In 99% of cases the rubbish was cleaned up within five working days,
Members of Keep Riverside Tidy praised the council enforcement team.
"They are being very active and removing it as quickly as they can," said member Becca Falvey.
"But ultimately we want the fly-tipping to stop, not for it to be collected for frequently."
The Cardiff Gov app was launched in June and has 7,781 users. 
Residents can check their waste and recycling collection dates, check their council tax account, set up direct debits, sign up for e-bills and report fly-tipping using their location. 
"I have used it and it seems to work really well," said Riverside Councilor Caro Wild.
Data released by the Welsh Assembly Government showed that since 2014 Cardiff has seen a 29% increase in reported fly-tipping incidents.  
From 2016 to 2017 there were 7,993 reported incidents in Cardiff alone,the highest result in Wales. It cost the council £503,513 to clear up all that rubbish.
New data was released showing a decrease to 5,928 reports from 2017 to 2018 but that figure is still one of the highest in Wales.  
However, Cardiff Council said that no waste was found on arrival of 4,794 of these incidents due to false reports or residents clearing the waste themselves. 
The app allows users to upload photos of fly-tipped rubbish and save the location, making it easier for residents to report and cutting the number of false alarms. 
The council has plans to increase the amount of functions on the app and make it more user-friendly.
Cathays resident Kelly Allen said: "I think it's a bit too simple. There should be more information and options for residents. We already take part in litter picking but it would be good to have that advertised."
Anyone can suggest improvements to the app on the Cardiff Council website. 
The app is available for download from the App Store or Google Play.