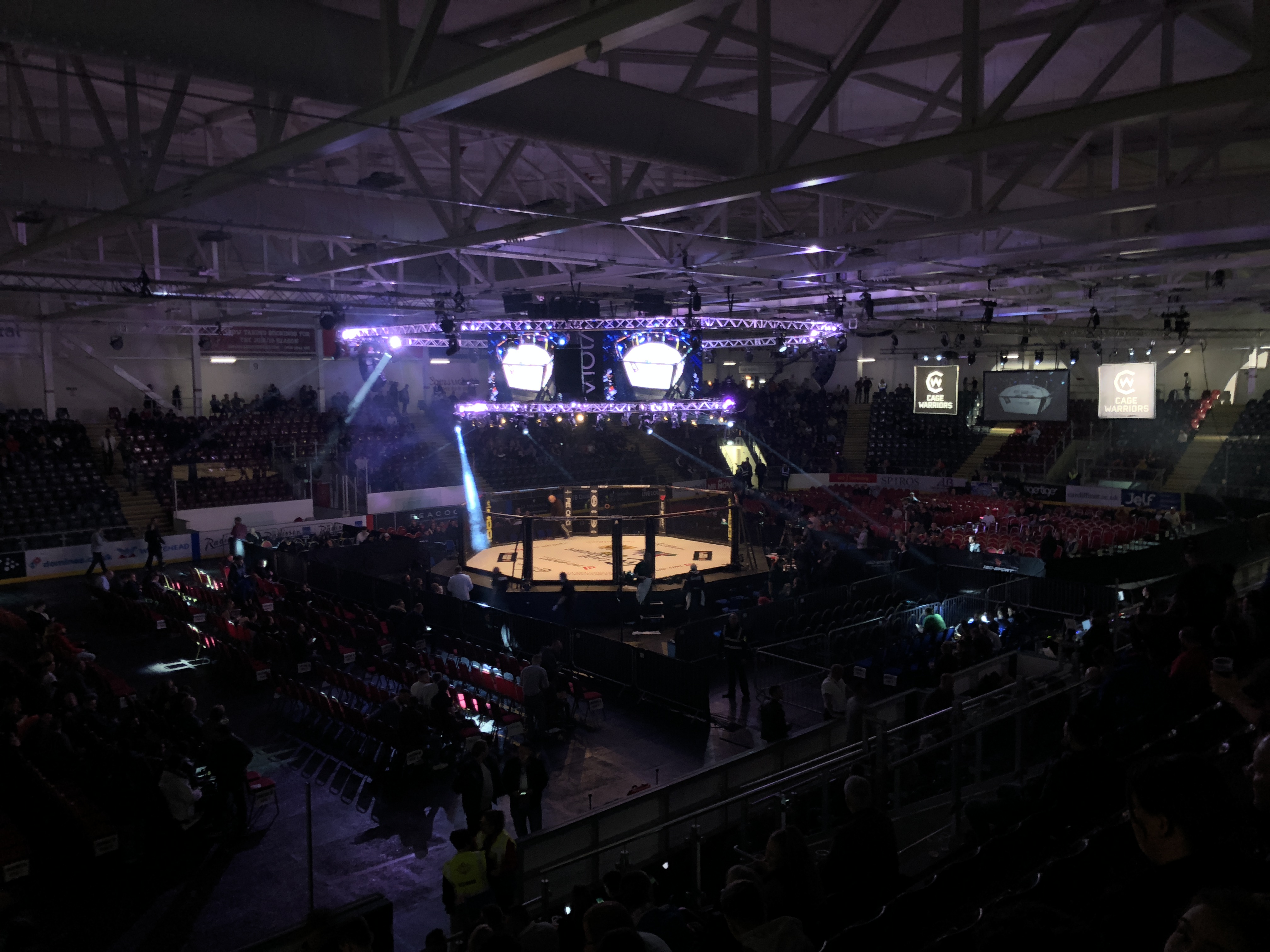 JACK SHORE was last night crowned Cage Warriors bantamweight champion in front of a jubilant crowd at Ice Arena Wales.
The Welshman, 23, secured the title after a dominant display against fellow undefeated prospect Mike Ekundayo, 24.
The bout was stopped by referee Marc Goddard in round three as Shore continued to inflict damage on his opponent from top position on the ground.
This was a constant theme of the fight – in each of the rounds Shore was able to take Ekundayo to the ground and work his way into a position where he could ground and pound the Brixton-based fighter.
Immediately after his victory, Shore asserted his claims to be the best in the division.
"Striking, wrestling, grappling. I'm the best in the division in every area," he said.
Shore's title fight headlined a stacked card for Cage Warriors 100. A number of Welsh fighters competed on the night, with two of Shores' teammates from Tillery Combat Gym – Kris Edwards and Josh Reed – both losing their fights.
Meanwhile, Cardiff fighter Aaron Khalid defeated Norway's Hakon Foss via submission (D'arce choke), extending his record to 8 wins and 4 losses.
Khalid struggled to find his rhythm in the opening round before landing clean strikes on Foss in the second, which opened up takedown opportunities. From there the Cardiffian was able to secure the choke.
The featherweight world title was also contested on the night – between Dean Trueman and Aiden Lee. Trueman, from Derbyshire, claimed the title via technical knockout. "It's my time now," Trueman declared in the octagon shortly after his victory.
Former Cage Warriors welterweight champion and UFC fighter Nicolas Dalby put in a strong performance against Ireland's Philip Mulpeter. The Dane showed his class in scrambling from the clinch and Mulpeter's takedown attempts, going on to pick his opponent apart in the striking department.
There were also a number of amateur bouts on the night, with the Academy Grand Prix Finals being contested. The winners from each weight division were to be rewarded with a professional contract with Cage Warriors.
Hometown boy Oban Elliott won his fight at welterweight against Danny Dixon via submission (rear naked choke), Elliott secured the win in emphatic style, finishing the contest in a mere 44 seconds. The victory takes his amateur record to 7 wins, 0 losses.
Danny Williams, of Pwllheli, North Wales, secured a unanimous decision victory over Jordan Peake in the lightweight division. Williams put in a professional display, reducing the risk of taking damage by controlling his opponent on the ground. The Welshman will hope this victory can be the start of a winning streak – his record now reads 13 wins 11 losses.