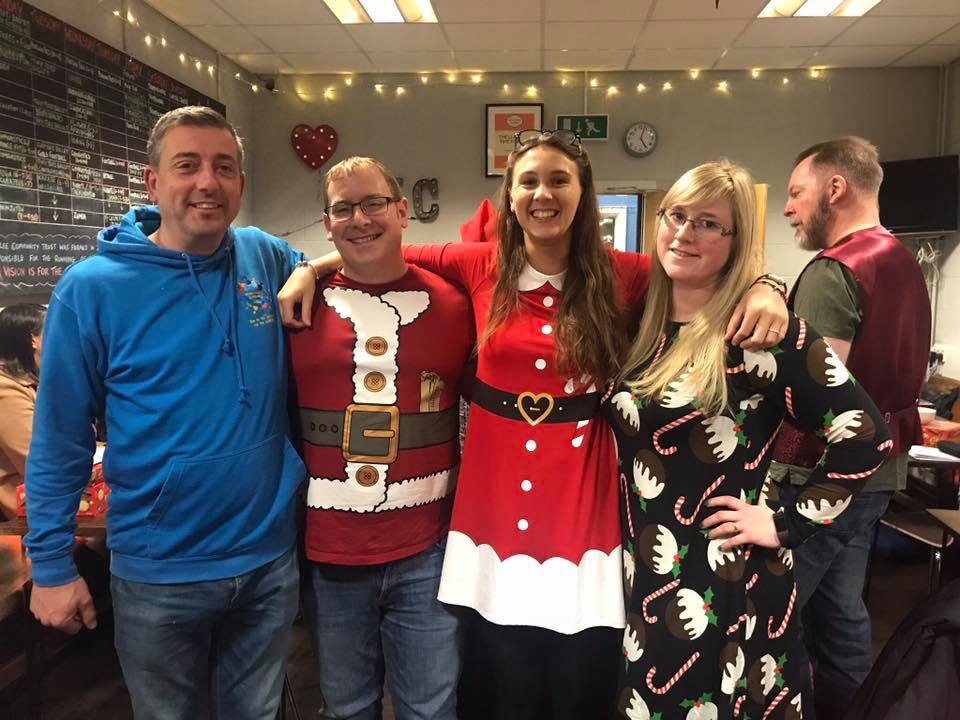 TUCKED AWAY in Jubilee Gardens in the north of Cardiff, near and Industrial Park and beside a residential estate is Maes Y Coed Community Centre. Darren Smart, one of the trustees, spoke to The Cardiffian about how they're opening again for those who are lonely this Christmas.
"Christmas is a lovely time of the year, but what if you haven't got anyone?" is the poignant message Darren Smart, one of the trustees at Maes Y Coed Community Centre, made when I first met him. Darren, aged 49, seems like your everyday person. However, what he and the Centre are doing is so much more than just ordinary.
On Christmas Day they are opening their doors again for those who are spending it alone to offer relief, entertainment and company for all ages from all walks of life.
Maes Y Coed Community Centre is delightfully welcoming; those involved and using the centre have a genuine interest in people and that's apparent in everything they do.
At first glance you may miss it, but the centre is quaint. Warm and welcoming on the inside, an award-winning garden and 4G pitch on the outside, it truly is a hub for the community.
Darren began by telling me of how well received the previous years were: Local families baked cakes, volunteers offered to help entertain the guests, and they received goods and treats from the nearby Co-op. "In the first year, the amount of people that turned up was probably around 50, not all of them were on their own but a lot of the local community came in with their families to give us some support" he said.
Darren is a family man, with two children aged 8 and 11, who works at the BBC when he's not at Maes Y Coed. As he stopped to chat with the people in the centre, you can see he – and everyone else in the centre – are genuine people who care about the community.
Every year the Christmas event has grown. They've received more donations, more volunteers, and more people spending their Christmas day there. "So, we thought obviously there is a need for it – hence why we are now in our third year," he chuckled.
It isn't just older people that spend Christmas alone, there a lot of younger people too. "Last year we got a lot of younger people who are on their own, it was nice to see not just the elderly coming in but people of all ages."
Research from Age UK last year, showed that around a million older people are lonely at Christmas, not seeing or hearing from anyone for days over the festive period. The same study said that 1.4 million people aged over 65 admitted that Christmas Day wasn't special for them and just passes them by.
Even though the event was originally designed for those spending the day alone or who have fallen on hard times, it is open for all. The centre has had families, couples, people working away from home all come along in the past to spend some time together.
The event is from 3 pm until 6pm – but Darren says it does often go on longer than that. "It's like a big community party." They open their doors, singers and a ukulele band provide entertainment, and food and drink (including some booze) is offered out.
"It's a free-for-all," he jokes.
"The satisfaction of doing it is unbelievable, days on your own are going to be long anyway, but Christmas day must seem so much longer. So, just to do that for a few hours it's great."
Darren's Christmas is centred on his family and what the centre are doing, he often brings his children along with him.
"It teaches them a little bit about giving back to other people, so hopefully when they get older, they'll do the same", a notion that is taken up by others.
"People bring their kids to teach them something: that it's about giving rather than just receiving".
Darren spoke of the time one lady who was spending Christmas alone and living out of her car came along. They provided her with company, comfort and even gave her a gift.
"We managed to give some money too, so she could go find a hostel for the rest of the festive season" he added.
After that Christmas she came back to volunteer with the community centre, so what Darren and the others at Maes y Coed are doing has become
much more than just giving, it's inspiring people to give back, too.
"We help other people out as well that we probably don't really know, because a lot of people who come and volunteer, we find out they're actually on their own, but they don't like to say" he said.
"We never ask, we never say 'you can only come in if you're on your own' we welcome anyone in regardless, because you never know people's personal circumstances."
The centre used to be run by the council. The community took it over by community asset transfer a few years ago and is run entirely on a volunteer basis. As a not-for-profit organisation it is entirely self-funded. The money it makes from events it hosts, goes toward paying the bills and developing the centre.
It runs classes and activities that appeals to a whole range of people, such as sports and fitness classes, sewing and knitting, gardening and flower arranging.
"We are truly a community centre" Darren says after telling me everything else the centre does – and they host a whole range of activities and events throughout the entire year.
Everything they do is, as their motto says, "run by the community, for the community" and it's not just for Christmas.