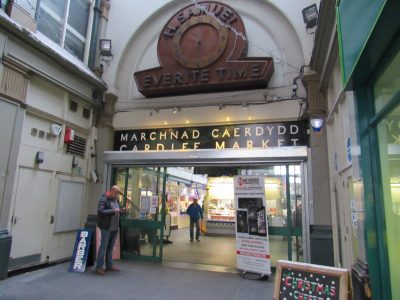 THE Victorian indoor market in the heart of Cardiff city centre is a focal part of Cardiff's heritage. A combination of what worked well in the past and what may work in the future, it is hard to miss with three entrances at St. Mary's Street,Trinity Street and Church Street.
Open since May 1891, the market has been an integral part of the Welsh capital and 43 years ago was protected and listed as a Grade II* building.
High street businesses come and go as people's tastes change; with a recurring public feeling that the "high street is dying" with the growth of internet shopping, how does a business inside the market survive these changing times?
It is a vibrant mix of a cheese stall, a coffee shop, a book exchange and a record shop but this does not even tell half the story.
For a market that has been trading for 127 years, Cheese Pantry has only been a part of it for two of those. Yet, it is an "up and coming space", says Becka, 24, from the stall located on the lower ground.
After falling into the job "by accident" from a beer and cheese night, Becka, who has since been with Cheese Pantry for one and a half of its two years of trading says: "it's just a nice, busy, weird, fun place to be".
So, two years on, how is the cheese pantry still going strong?
Cheese Pantry is the "only specialist cheese shop" that the market offers. She adds: "I think it's just having a very young, very niche business. In terms of Cardiff there's not a lot of cheese shops."
High streets are inundated with outlets for coffee as Starbucks and Costa are mainstays in many town centres.
Most high streets in the UK are jam-packed with these chains offering endless amounts of choice. You can "copy and paste most of these", according to Sam, of Hard Lines Coffee, located on the ground floor of the market.
Recurring claims of a 'dying high street' can be attributed to rent prices.
Sam says: "[The market was] probably the next affordable step for us because obviously the prices aren't through the roof and where high streets are, space and rent are extortionate".
A part of the market for 14 months now, he emphasises the importance of this place for small independent shops in their first years of trading.
"This allowed us to grow and have a foothold in the city centre without breaking the bank".
Sam believes Cardiff is one of the only indoor markets left in the UK and that they help retain "history and heritage".
Sam, who shows ambition of growing and becoming part of the high street, credits the regulars. "[They] keep us going, the traders as well, they're kind of like a staple of what we do. We rely on them quite heavily".
Familiarity is a key part of the market, "seeing the same faces repeatedly keeps us going, keeps everyone else going".
In the age of mobile phones and kindles, the face of reading has been altered substantially.
High street businesses like Waterstones are a main hub of maintaining this original paperback trend, while Amazon, who offer Ebooks along with paperback, are indicative of changing times.
So, where do independents like Bear Island fit in?
Colin Smith, 57, originally a surveyor from Leeds, opened Bear Island after noticing on a visit to the market that it lacked a book store.
"I am trying to avoid a real job" he says before bursting into laughter.
Bear Island is open yet warm, you step in but and are surrounded by books at all angles.
As he stacks the shelves with books, he does not just put them anywhere, but seems to have a sort of order to them, one which even he, along with myself, is not quite sure of.
In regards to doing something different, Mr Smith adds: "You become unemployable don't you after a while".
He jokes about how customers keep him informed of what books are popular and sometimes even finds books he did not think he had.
"People ask me for authors and I go 'oh no I ain't got that' then they come back and say 'oh you've got one here', I didn't know I had that."
After originally planning to stay open for 2 years, 22 years later he still finds himself a part of the market. Colin seems like he wants more and to do something else.
"I do take a long hard look at my life sometimes and think I gotta do something else but it coincides with my personality because I can't be bothered. I carry on, it's not too bad."
Located on the top floor is a record shop that has been part of the market for nearly 50 years.
The man at the till, Russell Milton, 47, has been with Kelly's Records since 1990, his whole working life, but once you to talk to him you understand why.
He came to work for a week and "never looked back".
Russell seems proud of what Kelly's Records stall stands for. "We don't do chart music or anything like that so we're free of that market force where everything is driven by sale".
"People weren't ready to let go of it" he adds with a smile. "People are fairly belligerent about their beliefs in what music is. 78p for thin air? Ever tried to move your iPod around? People like being part of something".
Russell believes that the changing times are a sign of good things to come, and that the high street is not dying but just "reshaping itself".
As the high street continues to change, Cardiff market stands tall. The market offers a range of businesses that would never be seen on St. Mary Street. Why it has been so successful for so long remains to be seen, but it is certainly here for the long term.