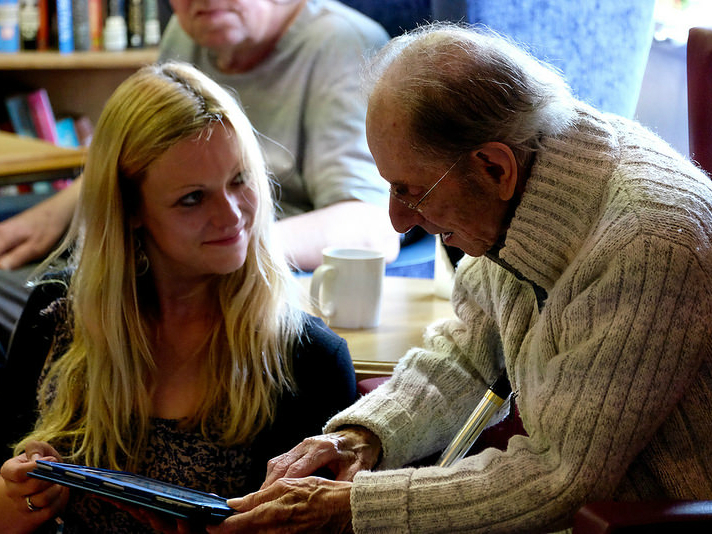 A CARDIFF Bay charity is employing local musicians to improve the wellbeing of dementia patients through sound.
It is estimated that 80% of care home residents live with dementia or have other memory problems.
The Welsh branch of the charity, Live Music Now (LMN), is based in Cardiff Bay and selects young, professional musicians to give music workshops and play concerts for the elderly and disabled.
"Music is a valuable way in which people with dementia can be cared for. It has physical, physiological and social benefits," said Douglas Noble, 51, Strategic Director for Wellbeing at LMN.
Mr Noble explained that research shows listening to music has big health benefits for those with dementia or other memory disorders.
He said: "Music stimulates and attaches to the parts of the brain that remain intact while other parts of the brain are diminished through the onset of dementia."
The charity is expanding their dementia-friendly project, Concerts and Cakes, "to bring people together regularly and provide a forum for the sharing of high-quality live music," said Heather Chandler, 27, project coordinator for health, wellbeing and older people at LMN Wales.
The Concert and Cakes events are aimed at improving breathing through singing and blood flow through gentle dancing and movement. The social aspect is also important, in order to combat the isolation experienced by many older people.
According to a recent report by LMN, nearly a fifth of people over 75 said they had 'felt lonely much of the time during the past week.'
John Nicholas, 28, a singer-songwriter from Bridgend has been involved in the workshops for years: "I really enjoy going and making a difference, seeing a smile on the residents' faces," he said.
Mr Nicholas told me that the care home gigs were a challenging but rewarding experience: "It was the biggest learning curve for me, it was the last thing you'd think you'd be doing but it was the best thing for building my confidence," he said.
LMN choose young musicians in the first five years of their career from all genres, "rock, pop, folk, jazz, indie, and everything in between," according to Douglas Noble.
"When you think about it these people were massively into music in the 50's, 60's and 70's, which is your Beatles, your Zeppelin.
"You play some songs that they like and it brings back memories for them, it's nice to see their face light up to certain songs," said John Nicholas.
Mr Nicholas added that care home staff had been moved to tears because of the reaction of some of the care home residents, saying: "that person hasn't spoken to six months, but they knew every word of that song."
The charity, which is funded by a mix of donations and grants, provides financial security for the musicians it employs, paying the rates recommended by the Musicians Union to ensure they are paid properly for the work they do.
LMN holds regular Concert and Cake events, see their Facebook page for details of upcoming dates.
John Nicholas is touring in March and plays The Big Top at 10 Feet Tall, Cardiff on March 28 – Tickets are £7.