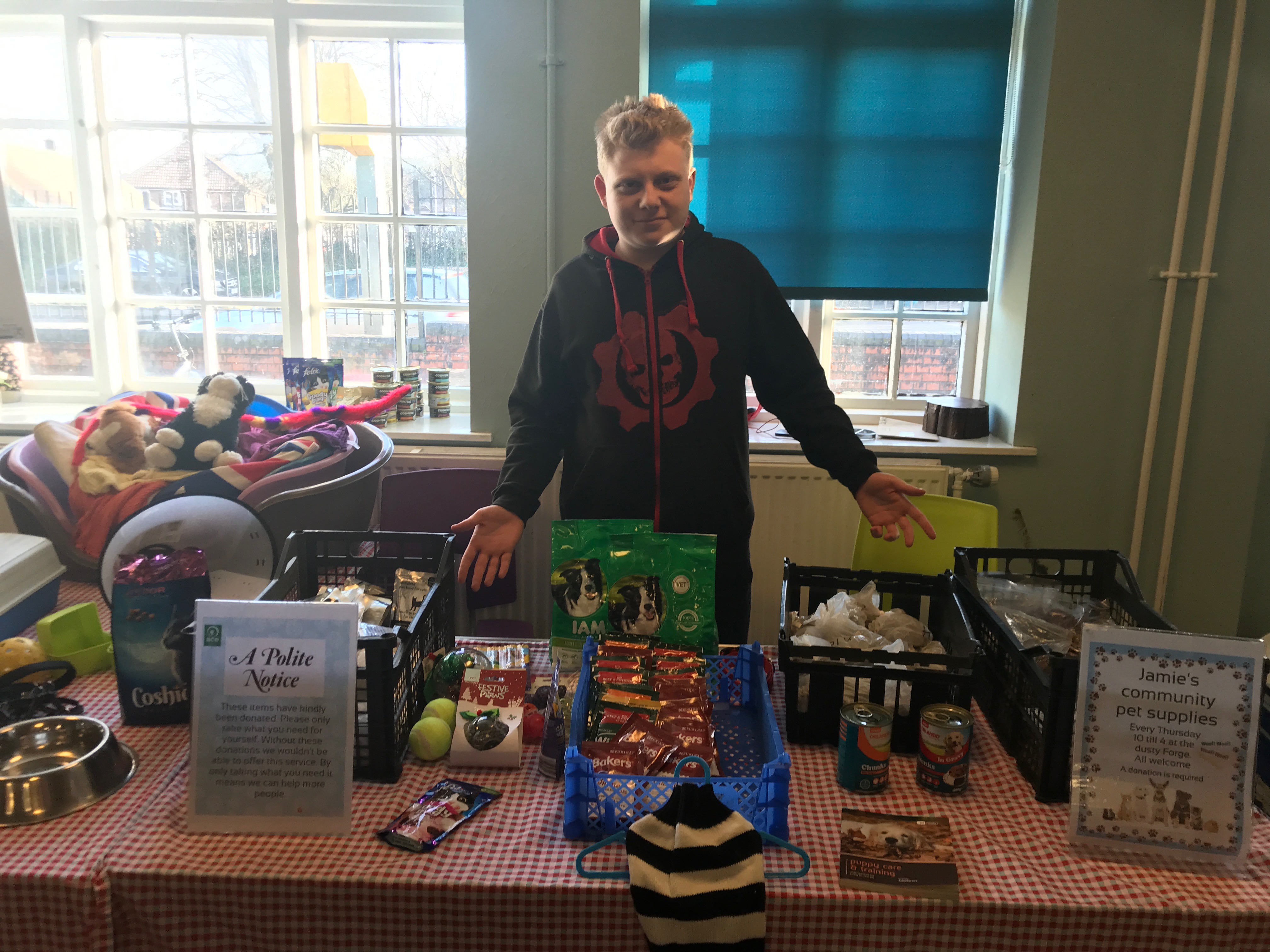 A TEENAGER has set up his own animal food bank in Cardiff to help families struggling to care for their pets.
Jamie Hayes, 16, saw an opportunity to give a helping hand to owners who might be struggling to afford the high prices of pet products and set up 'Jamie's Pet Supplies' in December.
After volunteering at Ely's community centre, The Dusty Forge's foodbank, where his mum works, Jamie realised nowhere locally offered pet products for people struggling with money.
"If you care for your animals and you're a bit tight on money, then we're here for you."Jamie said.
"I used to work and help out in the food bank and I realised that there was nothing for animals. Lots of people would come into the food bank and ask if we had any dog or cat food."
On his day off from college every Thursday, Jamie decided to set up his own pet supplies stall in The Dusty Forge to give locals a helping hand looking after their pets.
Tesco and Wilko both provided Jamie with vouchers totalling £50 for him to start stocking up his animal foodbank.
With this, Jamie filled three tables full of a variety of animal supplies, wet and dried food, toys, exercise equipment, dog leads, beds, blankets, tins, treats, towels and even a hamster cage.
Jamie is currently doing an apprenticeship in Animal Care as well as weekly work experience at a reptile store, where he looks after and feeds the reptiles.
He said: "I wouldn't be doing it if I didn't enjoy it.
"I have a bearded dragon named Hunter and three dogs. I am more of an animal lover than I am a people person to be honest. In the future I would definitely like to have a job with reptiles."
Natasha Hayes, Jamie's mother and a volunteer at The Dusty Forge's Foodbank, said: "He's doing the same as his Nan and mum, helping people out.
"He's grown up with animals and he just wants to help. He needs more help from bigger companies to provide regular donations though."
The animal food bank asks users to provide a small donation of their choice. 'Jamie's Pet Supplies' makes around £30-£40 in donations each week which all go towards restocking supplies.
Arran Martakies, 39, Ely, who uses Jamie's Pet supplies, said: "I have 7 cats, 3 dogs and 1 hamster. It helps us out with our pets when we're on a tight budget. There should be more places like this.
"It would be good to see it expand, he definitely needs to get more donations."
Director of the Dusty Forge, John Hallett, said: "It's fantastic to see Jamie running a pet stall. More importantly, he's increased in confidence.
"Not a lot of people his age would give the time that he does to this. The work he does is very much appreciated in the community."
For more information, follow Jamie's Pet Supplies here.