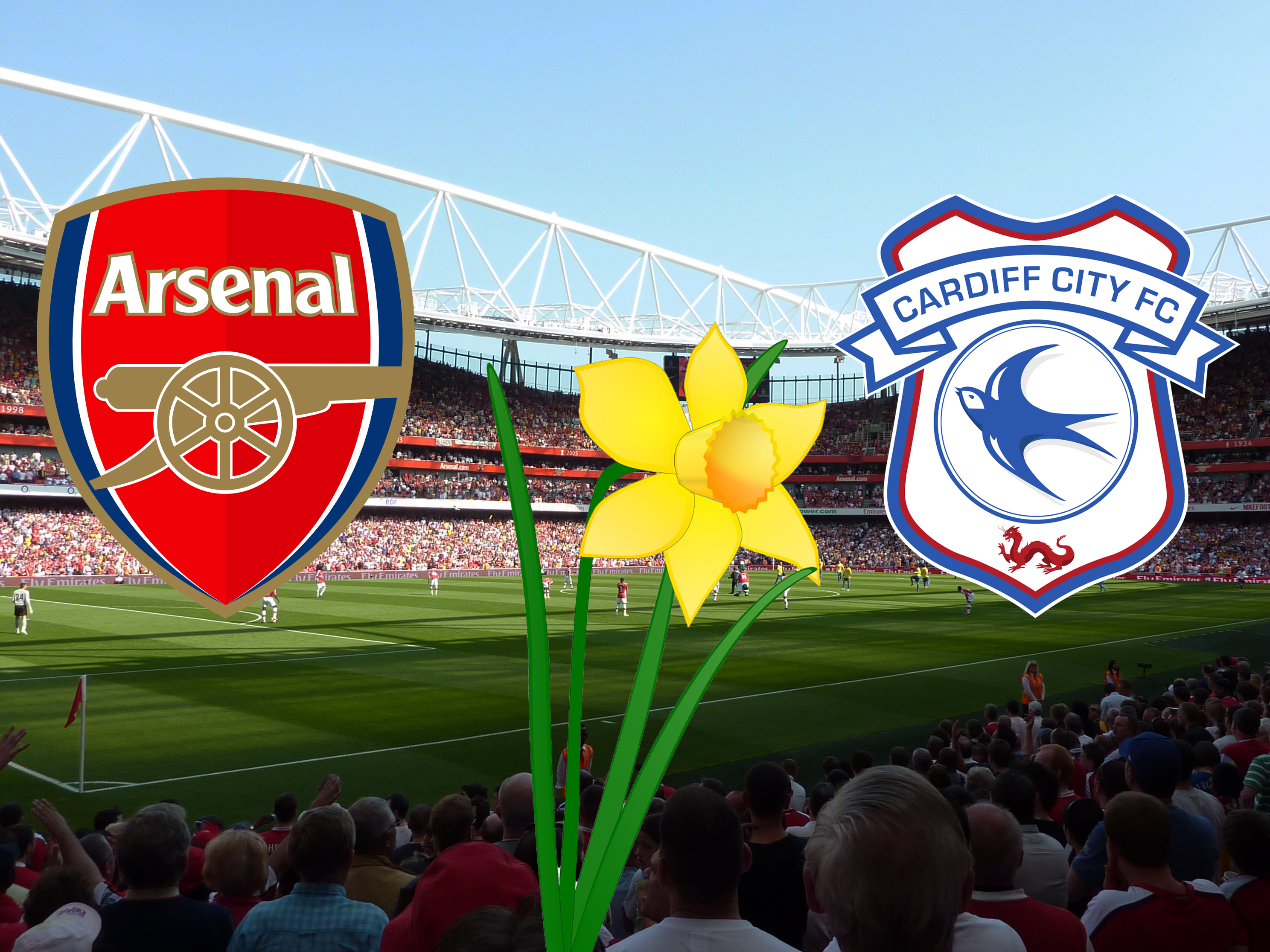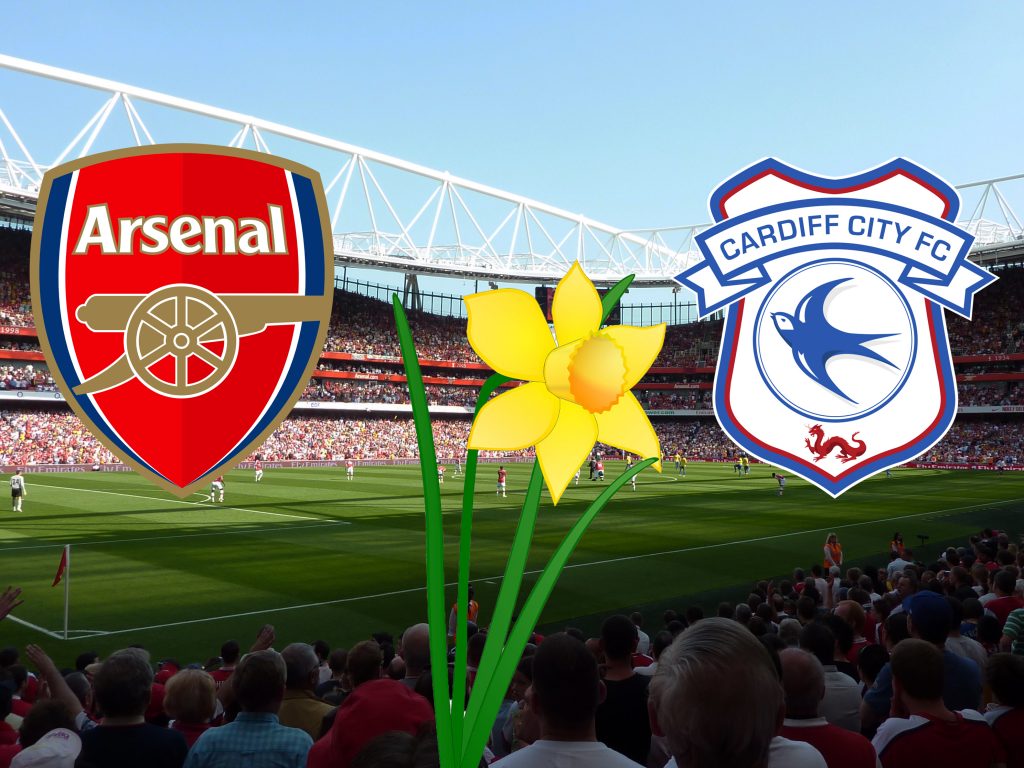 ON A NIGHT heavy with loss, football's significance paled. Too much indulgent tripe is written about the game's ability to bring people together, but here was a moment in which the footballing community was truly united.
These things simply aren't meant to happen: two men – Emiliano Sala and pilot David Ibbotson – missing and presumed dead.
It's jolting, harrowing and deeply tragic. And so watching, playing or even talking about football seems pointless.
But, there was a game to be played.
The performance; a fitting tribute to the fight, endeavour and grit Emiliano Sala modelled his game on.
Goals from Pierre Emerick Aubameyang and Alexandre Lacazette prompted a sigh of relief from a noticeably sparse home crowd. Up until the 66thminute, Cardiff had threatened and probed.
Yet a crisply taken penalty from Gabon international Aubameyang and a waltzing run and thunderous finish from Lacazette put an end to Cardiff's resistance.
Nathaniel Mendez-Laing claimed a consolation – City's first goal in four games – but what did you miss on a night punctuated by the poignancy of last week's tragedy?
Arsenal's classy tribute
This would have been Sala's debut. The difference between players and fans can often seem a world apart, but they're no different to you or I: this would've been a moment pregnant with excitement and pride.
Though he would never walk out at The Emirates with his chest pumped out and head held high, he was remembered with class by the team supposed to be his footballing enemy.
The Gunners paid tribute to the Argentinian by including him in the match-day programme's squad list, alongside a daffodil – the flower worn by so many to pay tribute to the 28-year-old.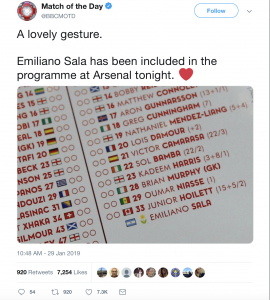 Ramsey's salute
With 15 minutes to go, Aaron Ramsey replaced Mesut Ozil – who was predictably quiet. The Welshman is revered in Wales, but particularly in Cardiff, where he started his journey at just 16-years-old.
This was likely the last time the 28-year-old will face his boyhood club, as he looks certain to link up with Cristiano Ronaldo and co. at Serie A champions Juventus.
Greeted with applause when he entered the fray in the 76thminute from the travelling contingent, he was later serenaded as he walked over to the away end after the final whistle.
Staying longer than most of the Cardiff squad, Ramsey bid adieu for the time being. His love for Cardiff is no secret and every Cardiff fan harbours a romantic belief that he will return to the welsh capital one day.
Attacking promise
The one thing hamstringing Cardiff's survival hopes is their staleness in the final third: they're the second lowest scorers in the league.
Sala, of course, was supposed to cure this ailment. Yet Cardiff looked lively on the break and had Bobby Reid been more clinical, the complexion of the game could have been drastically different.
Yet Reid – named in WhoScored's flops of the season XI – impressed with jinking runs and sharp footwork.
He paired well with on-loan Oumar Niasse, who spearheaded the attack. Adding further promise, Kenneth Zohore troubled the Arsenal defence upon his introduction to the game.
The Danish striker has baffled this season. The 24-year-old can dovetail brute force with a deft touch and has all the attributes to thrive at this level but he has failed to replicate the storming success he showed in the Championship.
Revitalising Zohore is a big ask, but should he find his feet, he may well be the man to haul City out from the relegation quagmire.
Cardiff CEO joins in with the away fans
Ken Choo, Cardiff's CEO, was seen mingling with away fans prior to kick-off. Choo has bridged the divide between chairman Tan Sri Vincent Tan with sincerity and there is once again accord between club and chairman – of course, Tan's decision to revert back to blue helped.
Instrumental in initially getting Sala to sign on the dotted line, Choo will have spent more time with the striker than most.
To take the time and effort to greet away fans shows you the humility Choo possesses. Though Cardiff are battling relegation, they are no longer engulfed by the internal battles that characterised their previous stint in the top flight. Choo has a lot do with that.