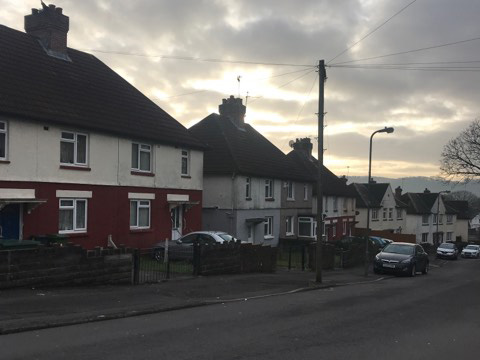 MORE than 60 properties are sitting empty in Ely and Caerau because of council red tape, despite there being thousands of families on the social housing waiting list in Cardiff.
There are 45 empty houses and flats in Ely and 20 in Caerau – a mixture of one, two and three bed properties – which could remain vacant for up to another six months.
One of three contractors, employed by Cardiff Council to repair the properties, has pulled out, causing delays while a replacement is found.
According to Shelter Cymru's Local Housing Report 2018, there are 8,573 households on the social housing waiting lists in Cardiff.
Councillor for Ely, Russell Goodway, said: "There is an issue around contractors – there used to be three but one left and now they have to go through a procurement process to get another contractor, which will take six months.
"Properties will not definitely be left vacant for six months – it will depend on the capacity of the remaining contractors."
Of the 45 empty properties in Ely, 30 were allocated a contractor and there will be delays to the process of repairing buildings for tenants to move into. The other 15 properties are awaiting allocation.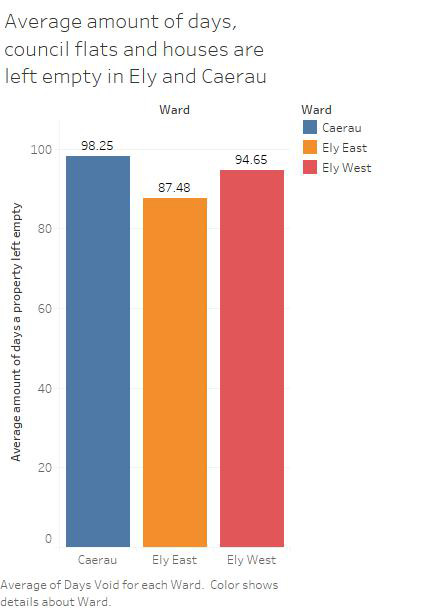 Jess, 26, from Caerau, has been on the waiting list since last October. She said: "I have to stay in Caerau to care for my disabled mum, but they told me it would make me wait longer because there are no houses in Caerau.
"They sent me to a homeless place. I have a two-year-old too and it's now February.
"When I walk around Caerau and see so many houses empty, it makes me mad."
Almost half of the properties have been left empty for over 100 days, with one property vacant for the highest number of 212 days.
Justin Francis, 40, who lives on Caerau Lane, said: "Most of the council houses are pretty much in bad shape and in need of updating but the council expects them to move into a house that's pretty much run down.
"I'm a heating engineer by trade and I've even had to make repairs whilst working at some properties to make them safe. Loose doors, windows not opening, damp, and roof leaks."
Councillor for Caerau, Peter Bradbury, said: "The majority of them are done up in 16 days. I walk around Caerau and I don't see any.
"We're on top of it, mainly due to the council supporting the public. I'm just putting two back into circulation now and tenants will be moving in this month."
Spokesperson for Shelter Cymru, Oliver James, said: "Empty properties represent waste, financial expense and missed opportunity for much needed affordable housing in Wales.
"Neighbours don't want an empty property next to theirs, as research shows their property will be devalued by up to 18% due to the house on the street being open to vandalism, fly tipping and squatting. We urge landlords and local authorities to make the most of resources such as the Houses to Homes scheme and tackle wasted housing in their area."
Private properties are also an issue, there are 1,432 private homes left empty in Cardiff. A cabinet meeting was held in November to remove the 50% council tax discount unoccupied and unfurnished properties are given.
The council hopes that removing the tax discount and adding a premium tax to empty homes will stop owners from leaving private properties empty.
Fairwater Councillor Neil McEvoy has been looking into the issue of vacant properties, including in Ely: "Residents are living in envy of properties which are being left over 12 months. Council or private, there is a complete lack of imagination.
"The average price to renovate a property is £30,000 but it is still a hell of a lot cheaper than building new properties."
The council tax discount will be removed from March 31.